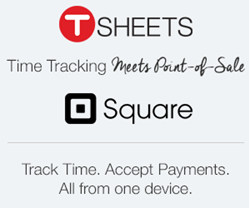 Both Square and TSheets are focused on designing a tech-savvy world that works simply and seamlessly," says Matt Rissell, TSheets CEO.
Boise, ID (PRWEB) July 16, 2015
TSheets and Square — market-leading technology companies for business-ready solutions — today opened up more time tracking possibilities at the register and beyond. By designing flexible software that syncs between platforms, Square and TSheets offer integrated technology that works better together.
Millions of businesses of all types and sizes accept payment with Square. The company also offers an ever-expanding suite of innovative solutions for the workplace, from inventory management to invoicing, plus an App Marketplace.
Thousands of companies in over 100 countries rely on TSheets time tracking, reporting and management tools to stay up to speed with employees. The solution is the number one rated app in the QuickBooks ecosystem, with over 1,250 five-star reviews on apps.intuit.com. Now staff time tracked at the register in Square can be sent to TSheets for advanced use and reporting.
"Both Square and TSheets are focused on designing a tech-savvy world that works simply and seamlessly," says Matt Rissell, TSheets CEO. "That's how Square completely changed the game in point of sale solutions. And that's why TSheets has a top-rated reputation for time tracking. By joining forces, we open up the best of both in one seamless connection that provides accuracy and efficiency for the employer and employee."
With the new integration, employees can clock in and begin tracking their time using either the Square iPad POS or a TSheets app — accessible on smartphones, tablets, mobile sites and more. Square will show the hours, and they will also flow to TSheets. By utilizing the tools available in TSheets, managers gain new insight on their employees and overall business operations. With GPS options and a "Who's Working" window, managers can see where and what employees are working on. Overtime alerts, lunch deductions, PTO and other timesheet matters are also recorded in real time for better payroll, invoicing and government reporting.
One early adopter, Jon Frech, co-owner of Black Oak Coffee Roasters, found that by using Square for point-of-sale and TSheets for time tracking it reduced the back-office time to pay his employees by several hours every week. "Square and TSheets made it easy for our employees and managers. We had no trouble getting our staff to adopt either software, and in the future we'll consider only products that integrate and work well with Square, like TSheets."
Find out more on the new integration at either app marketplace at squareup.com/app-marketplace or TSheets.com/app-marketplace. Setup is simple from either platform. Pricing details are available on the sites.
About TSheets
Every .75 seconds, somewhere in the world, an employee clocks in using TSheets time tracking software. Thousands of companies in over 100 countries trust our online timesheet technology. Employees track time using a computer, mobile phone, GPS-enabled apps, text, dial in and more—with clock in / out punch card or manual timesheet flexibility. This adds up to make TSheets the #1 employee rated and requested time tracking software on the planet.