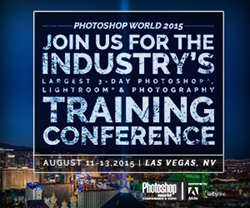 Tampa Bay, FL (PRWEB) July 16, 2015
Photoshop World Conference & Expo is headed back to Mandalay Bay Resort & Casino in Las Vegas, August 11-13, 2015. This is the 31st show for the Adobe and KelbyOne sponsored event, spanning over three days of training for creative people. Photoshop World offers more than 100 classes in 10 different learning tracks taught by world-renowned Photoshop, photography and lighting experts.
Designed to bring creative people together for a collective, hands-on learning experience, Photoshop World boasts an incredible line-up of training courses in photography techniques, graphic design, business, lighting, Lightroom, and Photoshop. From beginners to seasoned professionals, attendees can customize their learning experience to match individual skill level and interests.
Attendees will also gain access to insight and training from more than 45 of the world's best instructors like Scott Kelby, Joe McNally, Dave Black, Joel Grimes, Peter Hurley, Jay Maisel, Lindsay Adler, Julieanne Kost and more. New to the conference this year are Hands On Labs where attendees can work on personal projects with the help of instructors. More new events include Live Natural Lighting Shoots and Evening Photowalks hosted by conference instructors.
The Photoshop World Expo, free to the public and attendees, is also open all three days of the convention and showcases the latest technology, products and services in the industry Expo visitors will experience on-site product demos, free training in multiple theaters, plus exclusive expo discounts from vendors.
Tickets for Photoshop World may be purchased online at http://www.photoshopworld.com.
About Kelby Media Group
Kelby Media Group, founded in 1993 by Scott Kelby is the leading provider of education and information for creative professionals worldwide. Through their innovative award-winning magazines (Photoshop User Magazine, Lightroom Magazine), books, online training, live seminars and conferences (Photoshop World Conference and Expo), Kelby Media Group reaches over 3 million creative professionals.