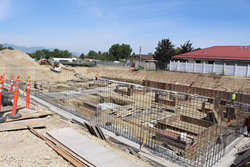 "The construction of a second building is a success not only for Med One, but also for communities served by the medical industry."
Sandy, Utah (PRWEB) July 16, 2015
Since its founding in 1991, Med One Capital has seen significant and steady growth as a provider of leasing and rental solutions for hundreds of medical facilities in communities throughout the United States. Because of their increasing customer base and expanding product market, they are in the process of constructing a second building next to their corporate office in Sandy, Utah.
The new Med One Capital building will provide a larger warehouse capacity and more office space, as well as more room for company gatherings. Construction began on Friday, April 24, and is to be completed in early 2016. The current corporate office was completed in September of 2005. This 30,000 square foot facility houses around fifty employees, a warehouse, and a biomedical division. An assortment of equipment is hosted in its warehouse, including infusion devices, ventilators, and patient monitors. True to Med One Capital's mission statement, Making Medical Equipment Available, these state-of-the-art facilities will improve their clients' access to needed medical equipment.
Larry Stevens, President and CEO of Med One Capital, made this statement: "After much consideration and analysis, we are excited to add some beauty to a once empty lot…the building that will be constructed on the property will emulate our corporate headquarters and will provide new opportunities for us."
The construction of a second building is a success not only for Med One, but also for communities served by the medical industry. Med One exists for the sole purpose of Making Medical Equipment Available to healthcare facilities, and in turn exists to serve those in need. Learn more at http://www.medonecapital.com