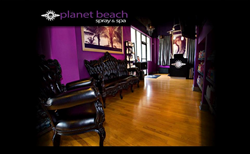 New Orleans, LA (PRWEB) July 16, 2015
Planet Beach recently announced an arrangement with LA Fitness to make prime real estate available to open a Planet Beach spray & spa inside of select LA Fitness locations. In order to introduce this new agreement to the marketplace, those who qualify and purchase a franchise license will be granted a second license at no additional cost. This offer extends to any qualified candidates looking to open a traditional spa or a spa located inside of an LA Fitness. This offer is only available for a limited time.
Planet Beach introduced an innovative approach to day spas by pioneering the automated spa concept. With this concept, Planet Beach franchisees are able to deliver beauty and wellness services through automated spray tanning and spa technology.
Planet Beach spray & spa franchisees experience several benefits and advantages, including a membership-driven business model, no competition, multiple revenue streams, low labor requirements, and member rewards program.
Qualifications for this opportunity include a minimum of $65,000 in liquid capital to invest and a credit score of 680 or higher. For territory checks, pre-registration, and more information, contact Kasie Banks at 504-297-1464 or email kasie.banks(at)planetbeach.com.
With hundreds of thousands of members, Planet Beach spray & spa is the world's first and largest automated spa franchise. We offer a complete system of beauty and wellness services and products. The company has grown to offer more than 20 push-button automated spray tanning and spa services including massages, facials, hydration treatments, teeth whitening, red light therapy and our exclusive patent-pending Hot Box Detox.
###