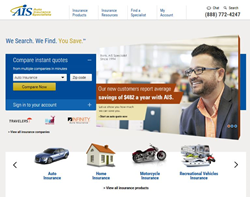 AIS believes in providing real rates from multiple insurers to give consumers the ability to make the best choice
Cerritos, California (PRWEB) July 21, 2015
Auto Insurance Specialists (AIS) has added California to the list of states where consumers can get online comparison auto insurance quotes with real-time rating. At AISinsurance.com, visitors on PCs, tablets or smartphones can submit a few driver and vehicle details and the rating engine searches over 20 top insurers, returning matching rate quotes. These are actual, current rates offered by well-known brands such as Mercury, Progressive, Safeco and Infinity, just to name a few. Quotes are also available for home insurance.
"Online Insurance shopping can be a very frustrating experience for consumers," says Mark Ribisi, president and CEO of AIS. "Some sites ask for personal information to sell leads, rather than provide rates. Others give rate estimates or ranges. AIS believes in providing real rates from multiple insurers to give consumers the ability to make the best choice." Ribisi continues, "And, when ready to purchase, AIS has over 100 licensed specialists to assist consumers with coverage options, find discounts and complete the policy."
AIS is not new to insurance or comparison rate shopping. AIS began selling insurance in 1968 as an independent agent. From the start, AIS helped consumers find the best fit by comparing the rates of the many insurance providers it represents. In 2005, AIS added online quoting to AISinsurance.com, allowing consumers to view comparison rates online. AIS added real-time rating for auto and home insurance in most states in 2008, and now with the addition of California, the company is able to provide real-time rates nationwide.
ABOUT AIS:
Auto Insurance Specialists, more commonly known as AIS, has been providing insurance coverage to customers for almost 50 years. One of the nation's largest independent insurance agencies, AIS is based in Cerritos, California and offers consumers a comparison shopping experience on a wide variety of insurance types, including auto, homeowner, renters, motorcycle, recreational vehicles, business insurance and more. In CA, AIS is Auto Insurance Specialists LLC | CA Insurance Lic 0524784; Outside of CA, AIS is PoliSeek AIS Insurance Solutions, Inc | CA Insurance Lic 0F51713 DBA AIS Auto Insurance Specialists Agency