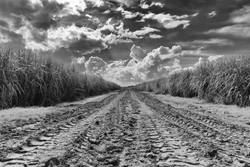 The true essence of a spirit necessarily starts with the soil. The great thing about the craft spirits movement is that we will see others join Cane Land in producing authentic terroir expressions, similar to the rare estate bottled products in wine.
Baton Rouge, Louisiana (PRWEB) July 15, 2015
Cane Land Distilling Company, a locally sourced and produced Baton Rouge spirits startup, has secured a 9,700 square-foot warehouse and distilling facility located at 760 St. Philip St. in Baton Rouge. With ample area parking and easy access to riverboats, casinos, and downtown hotels, the new location is being designed to accommodate retail customers as well as serve the company's storage and production needs.
"We wanted to send a clear message to the community that Cane Land is very much a part of the 'Farm-to Table' movement and a proud product of the unique local agriculture surrounding Baton Rouge," said Walter Tharp, founder of Cane Land Distilling. "At the same time, this new facility will allow Cane Land to scale its production at a rate to match the increasing demand for craft spirits." Tharp's mother's family has privately owned Alma Plantation and Sugar Mill for over 160 years since they purchased it from Julien Poydras, one of Louisiana's founding fathers. Alma currently processes about 45,000 acres of Louisiana cane.
Cane Land has attracted significant investment capital to begin producing a high-quality craft Rhum Agricole as well as traditional rums from their unique source in Pointe Coupee. The company's first products are expected to appear on retail shelves starting in early, 2016.
"Following a similar growth path that the craft beer industry has seen in recent years—now capturing as much as 20% of the U.S. market—we are starting to see the same signals in the craft spirits industry," Jim Massey, co-founder, said, noting that the company will be the first distillery to operate in Baton Rouge since Prohibition began in 1920. "Cane Land is well-positioned to introduce a new generation of consumers to a quality craft Rhum Agricole, made entirely from fresh local ingredients. The alluvial soil of Pointe Coupee is arguably the richest dirt on earth, it's why our sugar is the best, and everyone in Louisiana knows the best and freshest ingredients make the best product. If there is such a thing as farm-to-table spirits, Cane Land is it."