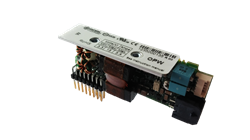 Castelfidardo (Ancona) Italy (PRWEB) July 17, 2015
ROAL Electronics SpA announces the release of its newest dual DC output module for the versatile RCB/MCB 600W and 1200W configurable power supply series for maximum configuration flexibility and scalability.
Previously, the RCB600 delivered up to 600W with up to four (4) output modules, and the RCB1200 delivered up to 1200W with up to eight (8) output modules, allowing customers to configure unique power solutions with virtually unlimited voltage combinations. The new dual output module will allow the family of products to DOUBLE the number of outputs in the same package size. The RCB/MCB600 will now offer up to 8 isolated outputs and the RCB/MCB1200 can offer up to 16 outputs providing truly unprecidented flexibility for our customers.
Each channel of the dual output provides 2x12V nominal voltage and 2x75W output rated power, with a voltage adjustment range of 3.3 to 15.0V. Other standard single output modules include: 5, 12, 24 and 48Vdc options. The modules operate in any chassis position. This flexibility combined with the wide selection of output choices give designers the advantage of tailored and customized power solution with output voltages from 1.5V up to 56Vdc (up to 224Vdc when connected in series) without the long lead times, NRE cost, and Safety Agencies certification fees associated with full custom designs.
The RCA-OPW dual output module carries a full set of electrical and thermal protections to meet stringent industrial and medical requirements, and is certified to IEC/EN/UL/CSA 60950-1 2nd edition and ANSI/AAMI ES60601-1; CAN/CSA-C22.2 No. 60601-1-1:08; IEC/EN60601-106; and CE Mark: Low Voltage Directive 2007/47/EC. The MCB600 base module offers 1x MoPP between Input and protection earth, 2x MoPP between primary and secondary sections, and functional isolation between outputs and protection earth (<250V).
Fully configured units can be purchased through ROAL's certified configuration centers typically with 24 – 48 hour availability in low quantities. ROAL's configuration centers; Component Distributors Inc. and TRC Electronics will have stock of the dual output modules by July 15th, 2015.
For more technical information or to purchase units configured specifically for you, please visit our web site: http://www.roallivingenergy.com or e-mail us at info(at)roallivingenergy.com
About ROAL Electronics
ROAL Electronics SpA, an Efore Company, is an innovations leader with a solid IP and product portfolio in switched mode power electronics and Solid State Lighting electronics. It develops and manufactures high quality switch mode power supplies (SMPS), LED Drivers, High Power LED Modules, motor controls and user interface panels for appliances. ROAL offers some of the smallest, highest performance and most reliable power conversion solutions in the industry today. For additional product and company information visit our website at http://www.roallivingenergy.com and http://www.efore.com