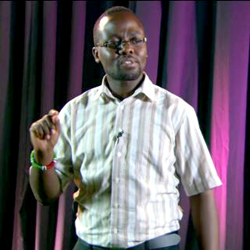 True behavior change is not forced or coerced. It is influenced.
Kansas City, Kan. (PRWEB) July 16, 2015
Unbound, an international humanitarian organization working in 20 countries around the world, has released a new video talk, entitled "Encounter Unbound," which addresses the marginalization of Kenyan youth and strategies for changing the present reality.
In the talk, Amos Kihoro, programs coordinator for Unbound in Nairobi, outlines reasons Kenyan youth struggle, such as high unemployment, early marriage, drug abuse, marginalization and various forms of exploitation. He describes a generation that feels disconnected, angry and entitled to blame others for their misfortunes.
Kihoro discusses the tragic effects of poverty combined with marginalization that can lead to violence like the recent massacre of college students in Kenya.
"Economic vulnerability of youth makes them hopeless, helpless and easy to lure into violent and radical groups," he explained.
In contrast, Kihoro describes Unbound's "culture of encounter" that works with young people to learn their problems, insecurities, feelings and pressures. He explains how caring adults mentor, counsel and encourage youth to see themselves and the future in a different light.
"True behavior change is not forced or coerced," Kihoro said. "It is influenced."
Kihoro knows of no young person involved in the Unbound sponsorship program who has been successfully recruited into gangs or terrorist organizations.
Many of the young people have become youth mentors themselves.
Watch the talk in its entirety here.
Unbound is the largest nonprofit organization in Kansas with more than $120 million in annual revenue. Unbound works side by side with people of diverse faiths in 20 countries, bringing people together to challenge poverty in new and innovative ways.
Unbound distributes direct aid as quickly and efficiently as possible to people who need it. 92.5 percent of Unbound's expenses go toward program support.
#