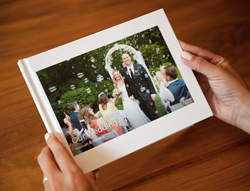 "Telling your story - and printing a beautifully bound book - has never been easier."
Chicago, IL (PRWEB) July 16, 2015
Chicago based Keepsayk LLC announced today at BlogHer '15 the launch of Keepsayk Printed Scrapbooks™. For the first time, iPhone users can create beautifully-designed printed hardcover scrapbooks, in minutes, directly on their phones. Printed copies can be instantly ordered with a single click, either from within the Keepsayk app, or from the online web view of any scrapbook shared via Facebook, Twitter, Pinterest, email or text.
The Keepsayk® iPhone app was introduced at Techweek Chicago last year as an entirely new way to capture life as it happens. The app effortlessly creates beautiful, shareable scrapbooks using photos, video and text, right from an iPhone, iPad or iPod Touch. It's the "instant scrapbook® of your life."
Simple but powerful editing tools allow for changing layouts with a single tap, reordering pages, cropping images, adding and editing captions, and more. Quickly refine a scrapbook until the presentation is just right.
Sharing is easy. Privately invite selected family and friends to view a scrapbook on the web with a password. Or make it public and share with the world via email, text message, or social networks Facebook, Pinterest or Twitter. All scrapbooks are private by default, and can be shared online by connecting Keepsayk to a Dropbox account.
Printed books can be ordered right from the app, or from shared scrapbooks on the web with any device. Never before has such a sophisticated a tool been made available on the iPhone for creating, formatting, sharing, and printing beautifully-designed books to preserve and share the events and stories of life.
"We all have hundreds or even thousands of pictures and videos on our phones, but no time to create something meaningful that tells a story," says Kimberly Harrod, Keepsayk Founder & CEO. "A Keepsayk scrapbook solves that problem by making it easy and fun to craft and share your memories and moments, right from your phone. You can order a beautiful printed copy for yourself with a single click in the app, or your family and friends can order their own books with a click from the shared online scrapbook. The Keepsayk app makes it brilliantly simple to create something you'll want to keep forever."
The Company is exhibiting this week at BlogHer's 2015 conference, Experts Among Us, in New York City. BlogHer is a part of the She Knows Media family, and is dedicated to helping bloggers share quality content via social media, while also celebrating bloggers and brands at the same time. Keepsayk is a proud sponsor of this year's conference.
The Keepsayk® app, with Keepsayk Printed Scrapbooks™ is available right now in the Apple iPhone App Store.
Headquartered in Chicago, Illinois, Keepsayk® is a scalable, mobile social platform for rich sharing®, based on a patent-pending cloud integration and data management technology. Visit Keepsayk on the web at http://www.keepsayk.com.