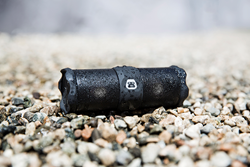 Our team of designers and engineers put all our brain and ear power into making sure G-TUBE lives up to the G-Project reputation. - Matthew Paprocki
LOS ANGELES, CA (PRWEB) July 16, 2015
G-Project, a company dedicated to evolving accessories for smart devices to be rugged and real-world ready, is expanding its product line with the addition of G-TUBE, an ultra-portable, water-resistant Bluetooth speaker designed for any adventure. Easily toss G-TUBE in a bag, strap it to a bike or hang it the shower for music anytime, anywhere. G-TUBE is available now for $40 at Target stores nationwide, Amazon.com and G-Project's website.
With G-TUBE's IPX5-rated water resistance, it can handle splashing from all angles without the worry of water damage, making it the perfect companion to take to the ocean, lake, pool or shower. It's built with a rugged housing structure, wrapped in a full steel grill with protective elastomer on the ends and center, to protect it from everyday use. G-TUBE also has a convenient metal loop so it can hook onto a carabiner or lanyard and hang from a tree branch, bag or backpack.
"All of our speakers share a common philosophy – they are loud, tough and strong. At this price point, consumers typically have to accept subpar sound as speakers in this class rely on off-the-shelf acoustic designs. But our team of designers and engineers put all our brain and ear power into making sure G-TUBE lives up to the G-Project reputation. Listen for yourself, you won't be disappointed," said Matthew Paprocki, founder/creative director of G-Project.
G-TUBE's sound is delivered through stereo 1.25" speaker drivers, pumping out surprisingly powerful sound for its small size. The water-resistant, built-to-last speaker streams music via Bluetooth 4.0 and offers line-in for any for any device with a standard 3.5mm headphone jack. G-TUBE also includes headphone-out, so users can plug their headphones into the jack to stream music wirelessly, while keeping their phone safe in their bag or backpack.
G-TUBE is equipped with playback and volume buttons directly on the speaker and is built with a six-hour rechargeable battery that easily charges through micro-USB.
G-Project's lineup also includes G-BOOM, the award-winning $100 Bluetooth boombox named 2013's "Speaker of the Year" by iLounge; two fun-sized travel speakers, G-POP and G-ZIP; G-GO, a larger portable, water-resistant, Bluetooth speaker; and G-DROP, powerful, rugged, fully submersible Bluetooth speaker.
For product one-sheets and hi-res images, please visit http://gprojectgear.com/pages/press
About G-PROJECT (http://www.gprojectgear.com):
G-Project is dedicated to creating speakers and accessories for smart devices that are rugged and real world ready. Always built with durability and portability in mind, G-Project creates lifestyle products for on-the-go, adventurous consumers. In 2013, G-Project's Bluetooth boombox G-BOOM was honored by iLounge and named "Speaker of the Year." G-Project utilizes the backgrounds of the Goodhatch team in design, technology, and music to create award-winning speakers that serve as the backbone of G-Project's emerging California lifestyle brand.