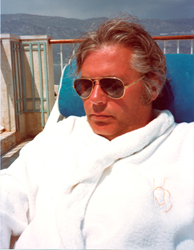 "I was always before my time."
NEW YORK, NY (PRWEB) July 23, 2015
"Make It Important!" was Billy 'Silver Dollar' Baxter's showbiz creed. Now the press agent and movie producer's legendary life is the subject of an art exhibit at the Janet Kurnatowski Gallery in Brooklyn August 1–16, 2015.
Billy Baxter was nicknamed 'Silver Dollar' by Roger Ebert who wrote a chapter about him in his memoir Life Itself: "...Baxter got his nickname because he arrived at Cannes every year with 2,000 American silver dollars, which he bestowed as tips," Ebert wrote in his chapter "Irving! Brang 'em on!"
Baxter's show business career got off to a rocky start in 1961 when he went bankrupt producing the Broadway flop Mandingo starring Franchot Tone and Dennis Hopper.
"I was always before my time," he said later, recalling the notorious play about a slave-breeding plantation produced three years before the 1964 Civil Rights Act. Baxter then reinvented himself as a press agent for the firm he'd hired to handle Mandingo publicity.
Throughout the 1960s and 1970s Billy Baxter promoted groundbreaking foreign and independent films La Dolce Vita, The Pawnbroker and many others. He also became the PR consultant and product placement specialist for Philip Morris and American Express.
With partner Herbert R. Steinmann he presented Lina Wertmüller's Love & Anarchy and the first popular LGBT movie of its day Outrageous! Steinmann-Baxter hit pay dirt in 1978 when they presented George A. Romero's cult classic Dawn of the Dead.
Music and film producer David P. Ohliger presents HYPE: The Life of Billy 'Silver Dollar' Baxter. Ohliger met Baxter during the production of his independent film Love Stalker.
"Billy Baxter backed the film and became my mentor. This art exhibit is comprised of mementos, vintage photographs, and promotional materials collected over a lifetime. HYPE is a celebration of a truly unique man. Here's to you, Billy. Cheers!"