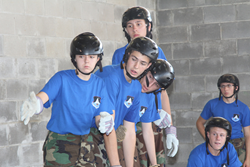 "At Cadet Officer School we are building our nation's leaders of tomorrow." - Lt. Col. Joe Winter, COS activity director
MAXWELL AIR FORCE BASE, Alabama (PRWEB) July 17, 2015
NOTE: Attendees by state listed at end of release
It's one of the top professional development opportunities available to America's youth but you have to be a high-achieving Civil Air Patrol cadet to participate.
It's Cadet Officer School, which begins July 20 at Maxwell Air Force Base, the site of CAP National Headquarters and the home of Air University and professional military education for the U.S. Air Force. That makes it the ideal venue to develop the leadership skills of CAP's top cadets.
Participation in Cadet Officer School, or COS, is a popular choice for CAP cadets from across the nation because of the rigorous academic curriculum and caliber of instruction offered by the Air Force and CAP officers. Only the top 15 percent of all CAP cadets are accepted to attend.
This year, 121 cadets from 36 states are participating in the 10-day, college-level course.
"This is a premier leadership opportunity for our cadets," said Lt. Col. Joe Winter, the activity's director. "The leadership skills they acquire here will lead them to exciting careers in both the military and the private sector."
Patterned after Air Force Squadron Officer College, COS is an academically challenging program combining lectures, seminars and hands-on training designed to develop cadets' broader understanding of leadership as a discipline. Throughout the week the cadets participate in a variety of lectures and supporting discussions to explore leadership topics. They practice what they learn through a series of comprehensive writing and speaking assignments, culminating with graduation ceremonies on July 29.
"At COS, we are building our nation's leaders of tomorrow," said Winter. "Our cadets gain confidence and experience as they develop their skills. Through the rigorous curriculum and activities they enhance their ability to work with others, and when they leave COS, they are better prepared to serve as leaders in their units, schools and communities."
Throughout its 73-year-old history, CAP's cadet program has built strong citizens for the future by providing leadership training, technical education, scholarships and career education to young men and women ages 12 to 20. Activities like Cadet Officer School give CAP cadets the opportunity to improve their skills in a variety of areas, including search and rescue, flight and emergency services, science, leadership fundamentals, citizenship and military courtesies, and to explore aerospace technology and aviation careers. In 2014, more than 1,200 youth participated in CAP-sponsored summer activities.
Attendees:
Jakob McGaughey AL
Robby Jeffries AR
Zane Phillips AR
Bradley Reithmann AZ
Tristan Arguelles CA
Travis Blackmon CA
Hadden Geris CA
James Hockel CA
David Pauly CA
Clayton Wikoff CA
Jiyoung Yi CA
Ian Engebrecht CO
Chad Lewis CO
Qashr Middleton CO
Jacob Olson CO
Nicholas Timpe CO
Alexander Hewitt FL
Austen King FL
Jonathan Levin FL
Daniel Linares FL
Angel Pena FL
Justin Torres FL
Jacob Watford FL
Ethan Abercrombie GA
Thomas Boylan GA
Angela Waltman GA
Hannah Wright GA
Jett Hawk ID
Christopher Salcido ID
Nicholas Lawson IL
Zachary Rawlings IL
Matthew Wallace IL
Hannah Imel IN
David Ruark IN
Benjamin Chaverin KS
Derek Ficken KS
Franchesca Giroir LA
Andrew Koepnick LA
Peter Spinelli Jr MA
Aaron Scanlan MD
Matthew Truitt MD
Ashley Baker MI
Alexandra Brown MI
Allan Flack MI
Adrian Hockin MI
Abagail Jongekryg MI
Kevin Peterson MI
Austin Schultz MI
Keerthi Sreenivasan MI
Ashlyn Victoria MI
Sarah Chanski MN
Justin Dokken MN
Sebastian Dvorak MN
Kellen Grundman MN
Shannon Hockman MN
Elise Johnson MN
Juliana Lambert MN
Thomas Zurales MN
Brooke Maynard MO
Kole Tilson MO
Noa Bender MS
James Barrow NC
Kyra Willis NC
Hannah Compton NE
Kendrick Smith NE
Roman Birchwale NJ
Robert Brown Jr NJ
Hayden Coyne NJ
Matt Roberts NJ
Kodandasairam Vinjamuri NJ
Elizabeth Pilcher NM
Keenan Jensen NY
Alexander Lam NY
Derek Profit NY
Benjamin Schiher NY
Kevin Vogel NY
Vincent Allen OH
Joseph Anand OH
Timothy Anthony OH
Michael Ash OK
Samuel Embrey OK
Nathan Harrell OK
Conlan Miller OK
Caleb Morriss OK
Wade Baltazar OR
Ryan Finnegan PA
Michael Pope III PA
Bryan Toro PR
Nicole Schneider SD
Matthew McClure TN
Jonah Torp-Pedersen TN
Samuel West TN
James Bovenkerk III TX
Christopher Crismon TX
Justin Hammond TX
Jonathan Lindstrom TX
Nathaniel Sanchez TX
Laura Turpen TX
Aiden Norris UT
Deannah Bennett VA
Mici Cummings VA
Matthew Esnardo VA
Cory Harding VA
Abhishek Mogili VA
Emily Stokes VA
Justin Sweat VA
Anthony Verardo VA
Ryan Bauman WA
Carson Lutterloh WA
Raelani Mathias WA
Cassidy Ratayczak WA
Ethan Reiniger WA
Bethany Stanley WA
Xavier Correa WI
Zachary Klotz WI
Jacob Eubank WV
Sarah Leslie WV
Erin Leslie WV
Alexander Perruci WV
Civil Air Patrol, the official auxiliary of the U.S. Air Force, is a nonprofit organization with 58,000 members nationwide, operating a fleet of 550 aircraft. CAP, in its Air Force auxiliary role, performs about 85 percent of continental U.S. inland search and rescue missions as tasked by the Air Force Rescue Coordination Center and is credited by the AFRCC with saving an average of 70 lives annually. Its unpaid professionals also perform homeland security, disaster relief and drug interdiction missions at the request of federal, state and local agencies. The members play a leading role in aerospace education and serve as mentors to more than 24,000 young people currently participating in the CAP cadet programs. Performing missions for America for the past 73 years, CAP received the Congressional Gold Medal in 2014 in honor of the heroic efforts of its World War II veterans. CAP also participates in Wreaths Across America, an initiative to remember, honor and teach about the sacrifices of U.S. military veterans. Visit http://www.capvolunteernow.com for more information.
CAP contact:
Julie DeBardelaben – jdebardelaben(at)capnhq(dot)gov – 334-953-7748, ext. 250
Steve Cox – scox(at)capnhq(dot)gov – 334-953-7748, ext. 251