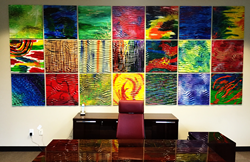 We installed the Art Wall in our office and it now looks like an art gallery! We are overwhelmed by how beautiful the installation is and the way it enhances our work environment.
Westlake Village, CA (PRWEB) July 20, 2015
ART WALL captures, with its intensity and endless application of painting techniques, the force that drives art collectors to buy oil or acrylic paintings solely on the merits of the artwork and not the fame of the painter. Each 3d wall panel is a unique work of art that represents the artist's mastery of the paint brush, texture of the brush-strokes, and combination of colors. They measure 2'x2' and are hand painted in bright acrylic colors that burst with the creativity and intensity of an art gallery exhibit. The wall art panels deliver a transformational and emotional experience for those who view it.
In a world where everything is now made by machines, nothing elevates the spirit to feel good like the purest form of art. The ART WALL panels are a painted surface with brilliant colors overlapping each other.
TEXTURES 3D® ART WALL is priced to offer the ultimate art experience, stimulates the visual senses at incredibly affordable prices of $125 per 2'x2' panel, and can be shipped nationwide as we are an online company. The panels can be ordered in set form allowing the artist to assemble a collection of panels with color and pattern flow, or they can be ordered individually leaving you to assemble a grouping of panels that are pleasant and pleasurable to your discerning eye.
ART WALL is perfect for OFFICE installations, HOTEL lobbies, APARTMENT lobbies, and hallways, as well as the full range of commercial and residential projects.