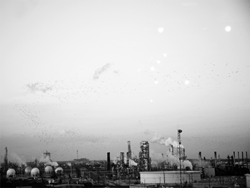 San Francisco, CA (PRWEB) July 20, 2015
http://calfree.com/EarthJusticeCAREetalvUSEPAetal.pdf
July 15, 2015 -- CAlifornians for Renewable Energy (CARE), its President Michael Boyd, together with five other community groups, across the country, sued the Environmental Protection Agency (EPA) in the U.S. District Court Northern District California for allegedly failing to investigate their civil rights complaints for more than a decade, Case 3:15-cv-03292. The complaints involve alleged discrimination by the states in granting permits that subject already overburdened low-income communities of color to more big-polluting facilities.
EPA accepted the complaints which are on permits for two gas-fired power plants in Pittsburg, Calif., a landfill in Tallassee, Ala., a hazardous waste facility in Chaves County, N.M., a wood-incinerator power station in Flint, Mich., and an oil-refinery expansion along the Texas Gulf Coast. These permits are for facilities in predominantly low-income African-American or Latino neighborhoods.
The complaints filed between 1994 and 2003, alleges that state agencies permitted these facilities through discriminatory actions, processes, patterns or practices. Allegedly EPA's delay allows these neighborhoods to continue to be harmed by the permits long after they were issued. Many of these facilities have already been built and are now on EPA's "Significant Violators List" for their high levels of toxic pollutants. Some are paying hefty fines for Clean Air Act violations. [Complaint page 13 line 1, page 15 line 1, and page 14 lines 25 - 26]
Earthjustice filed the lawsuit on behalf of CAlifornians for Renewable Energy (CARE) and its president Michael Boyd, Ashurst Bar/Smith Community Organization, Citizens for Alternatives to Radioactive Dumping, Maurice and Jane Sugar Law Center for Economic and Social Justice and Sierra Club Lone Star Chapter.
"On or about April 17, 2000, Plaintiffs Michael Boyd, CAlifornians for Renewable Energy, and other signatories submitted a Title VI complaint ("CARE Complaint") to OCR alleging that the Bay Area Air Quality Management District ("BAAQMD"), California Air Resources Board ("CARB") – both recipients of federal funding – and the California Energy Commission ("CEC") discriminated against residents of the City of Pittsburg, California, on the basis of race, color, and national origin in violation of Title VI. …The CARE Complaint alleges that these California regional and state agencies granted permits for the construction of the Los Medanos Energy Center and Delta Energy Center power plants in Pittsburg, California but unlawfully failed to consider the additional environmental burdens caused by the two plants on residents who already suffer from the cumulative impacts of multiple sources of pollutants in the area. Ex. 5, at 4-6. The complaint alleges that the two facilities were sited in communities that are composed primarily of nonwhite and low-income residents who already suffer from elevated levels of asthma, breast cancer, and human mortality related to particulate matter exposure. Id. at 3, 6-12. "[Complaint page 10 line 16 through page 11 line 2]
April 13, 2000, Sierra Club Lone Star Chapter filed a complaint with EPA alleging, among other allegations, that the permitting process and ultimate decision to permit an oil-refinery expansion in a low-income and African American community in Beaumont, Texas violated Title VI. [Complaint page 6 lines 21-23]
The lawsuit seeks to compel the EPA to fulfill its duties to enforce Title VI of the Civil Rights Act, calls on the agency to finally investigate these discrimination cases. and issue outstanding findings and recommendations.
Contacts:
Marianne Engelman Lado, Earthjustice, 212-845-7393
Deborah Reade, Citizens for Alternatives to Radioactive Dumping, 505-986-9284
Michael Boyd, CAlifornians for Renewable Energy, 408-891-9677
John Philo, Sugar Law Center, 313-993-4505
Ron Smith, Ashurst Bar/Smith Community Organization, 334-787-0329
Neil Carman, Sierra Club Lone Star Chapter, 512-663-9594
Leslie G. Fields, Sierra Club, 202-548-4586
http://earthjustice.org/news/press/2015/epa-must-end-discrimination-stop-states-from-permitting-polluters-in-overburdened-communities-of-color-0