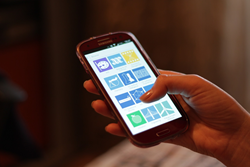 We're excited to offer these discounts to help our clients save money on highly needed apps for their business.
Chicago, IL (PRWEB) July 16, 2015
Eye To Ad Media, a progressive internet marketing company is celebrating summer with a special sales event on app development services. Despite the sophistication level of the app, customers will be able to take advantage of savings up to 15% off of regular prices.
This promotional event is the perfect opportunity for managers and business owners that are looking for ways to effectively advertise a business, to take advantage of big savings. Applications play a crucial role in the landscape of the internet. More and more businesses are turning to apps because they can help streamline labor, ultimately making the buying experience easier and more pleasant for the consumer. They can also help a business increase their exposure and drive conversions, while minimizing overhead and streamlining the sales process.
For this special offer, the company will be providing app development services for simple and highly sophisticated custom projects. Despite the complexity of the program, it's more about interaction and conversions. If there aren't conversions that turn into net profits, then there may be something incorrect or missing.
Oftentimes poor conversion rates can be caused by uncompelling call to actions, incomplete functionality, irrelevant information and low quality graphics. Consumers are becoming smarter and smarter every day, more internet savvy and able to tell when they're using a poorly built website or application. These mistakes can cost a business money and make marketing dollars work less effectively. On a positive note, their experienced ad consultants can help turn ideas, into functioning platforms, problems into solutions and help simplify marketing objectives no matter the size or scope of the project.
Businesses that want to stand out and portray their brand in the best light possible, can customize a plan that's perfect for their unique needs and goals. Clients are more opt to interact when there's something that benefits them, or drives them to move forward. This can be an offer, new information or functionality that's desired by the consumer. An app can have many purposes, such as helping manage, track, or notify. They can assist in making consumers lives easier and more convenient. They can help provide solutions to help save time and money. Most importantly, they can build relationships with customers who need innovative products and services.
In addition creating custom apps, the company offers a wide variety of services designed to help businesses. They specialize in responsive website design, graphic design, logo design, E Commerce, SEO, SEM, PPC, keyword research, copywriting, video production, infographics, website hosting, domain registration and marketing planning. For more detailed information visit http://www.eyetoad.com
Mobile friendly websites are pretty much a requirement in order to fully optimize for conversions. Bottom line is, many people use their smart phones to find the things they need and want. All of the websites created by this ad agency are compatible with smart phones and desktop computers. Easy navigation and proper site organization makes it easier for visitors to browse and interact, which is an important component to conversion optimization.
Eye To Ad Media is a smaller agency compared to some of the larger national marketing companies, however they have a global reach and offer intuitive advertising services for very competitive rates. The personal customer service they offer will be appreciated and all new clients get assigned their very own marketing manager. The specially trained business consultants discover pertinent advertising objectives and are a direct point of contact throughout the entire relationship. Eye To Ad Media has operators standing by 24 hours a day and encourages visitors to call for a no cost or obligation consultation and analysis.
Contact Information:
Zach Wennstedt
1-800-481-8638
sales(at)EyeToAd(dot)com