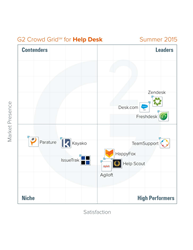 (PRWEB) July 16, 2015
The updated Grid℠ report for help desk software, published today by business software review platform G2 Crowd, ranks 10 products to help purchasers in their selections.
Zendesk, Desk.com and Freshdesk were named Leaders in the report, receiving high customer satisfaction scores with a large market presence. TeamSupport, HappyFox, Help Scout and Agiloft earned high customer satisfaction scores with a smaller market presence than Leaders, and were named High Performers. TeamSupport earned the highest overall customer satisfaction score.
Many users wrote that having a well-organized system with a simple interface and low learning curve was an important aspect of their help desk software. In addition, a number of users - especially help desk software administrators - wrote about the need to be able to customize their tool to fit processes specific to their industry.
The Grid℠ was created from G2 Crowd's software review platform, which compiles customer satisfaction as reported by users, along with vendor market presence as determined from public and social data, to rank products. The Summer 2015 report is based on data from more than 700 reviews written by business professionals.
Help desk platforms are designed to provide a customer with information and support regarding a company's products or services. Customer concerns are typically submitted via email, phone or social media channels. Help desk software provides a ticketing system for staff to organize and respond to customer inquiries, and streamline customer service and provide analytics into customer engagement across all communication channels. This report only includes "best of breed" help desk products.
Of the nearly 50 products vendors listed in G2 Crowd's Help Desk: Best in Breed category, the 10 ranked products each received 10 or more reviews to qualify for inclusion on the Grid℠.
Across all help desk tools, reviewers reported the product they use meets their requirements at an average rate of 86%, and on average reviewers said they were 88% likely to recommend the product they use. The two highest-rated features, on average, were the ticket creation user experience and email to case, both at 91 percent. Reporting and Analytics-related features were, on average, the lowest rated at 80 percent.
Some highlights from the help desk software reviews on G2 Crowd:
"I've been a Zendesk agent our helpdesk since 2010 and I was the head administrator of our instance from 2012 until 2014. The system has worked without failure or significant downtime. I'm a huge fan of the multiple channels available and the sidebar widget we added to our marketing sites. Triggers and Automation have taken our support team to new levels of responsiveness and accountability."

Miles Baltrusaitis, Director of Marketing at Realogic Analytics, Inc.
"[Desk.com] gives us a solid way to interact with customers. It's extremely easy to automatically assign certain types of cases to certain people or to automatically resolve certain cases. It's also very easy to see a customer's entire history for reference. Most importantly, whenever we email the...team for support, they're extremely responsive."

Hannah Rochau, Customer Happiness Coordinator at Curiosity Media
"[Freshdesk allows] us to automate and track necessary workflows in IT. [Its] Google Apps plugins provided additional services without the need to change any touch points for our clients. Our favourite part was the transition to Freshdesk. It was very smooth - no touch points [that] our customers had to change."

Jonathan Tepper, Director of Information Technology at Greenwood College School
"[TeamSupport] is customizable for your needs, and not difficult to navigate. I have found the Help Center VERY helpful. I prefer watching tutorials and Team Support has an abundance of easy to follow [guides] separated into categories for easy access."

Laurie Preston, Educator at Sts. Peter and Paul Regional Catholic School
"The longer you use HelpScout, the more abundantly clear it becomes that its developers care deeply about customer satisfaction. From updates to the dashboard to integration with Google Apps, I've found just about every new feature incredible helpful...It's easy to appreciate new features that don't get in the way, but instead tackle real user pain points."

Fhiwa Ndou, Startup Concierge at MassChallenge
"[HappyFox is a] very easy to learn and an effective tool to handle customer tickets. Super easy to track and keep record of the incoming requests."

Sneha Kedia, Account Executive at Micello, Inc.
"Agiloft has an amazing breadth of features, but its greatest strength is flexibility. For complex operations, the out of the box solution is never a perfect fit and in other systems I have used, you need into some pretty heavy programming to customize it to your needs. In Agiloft, it is all just point and click. And not just for trivial stuff, but for really deep changes. You can quite literally build completely new modules with their data relationships, workflows, reports, etc without writing a line of code."

Max Henrion, CEO at Lumina Decision Systems
Satisfaction rankings are generated from the user reviews, and market presence is calculated from vendor size, market share, and social impact. Based on a combination of these scores, each software solution is categorized as a Leader, High Performer, Contender, or Niche.
Premium help desk research access can be purchased on the site for $599. These offer the original data for filtering and weighting, as well as individual profiles of each platform with the most helpful positive and negative help desk platform reviews, detailed company information, user satisfaction ratings, feature scores and customer metrics. Future Grid℠ refreshes will provide updated rankings based on the latest reviews and social data.
Be sure to check out the new Grid℠ for the best help desk software and subscribe to the premium research.
_______________
About G2 Crowd, Inc.
G2 Crowd, the world's leading business software review platform, leverages its 33,000-plus user reviews to drive better purchasing decisions. Technology buyers, investors, and analysts use the site to compare and select the best software based on peer reviews and synthesized social data. Co-founded by the founder and former executives from SaaS leader BigMachines and backed by more than $4.5 million in capital, G2 Crowd aims to bring authenticity and transparency to business technology research. For more information, go to G2Crowd.com.