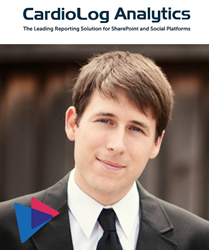 Boston, MA (PRWEB) July 16, 2015
The CardioLog Analytics team is happy to announce they will be teaming up with Richard Harbridge, SharePoint expert and evangelist next week for a webinar on the "Top 10 Ways to Improve Office 365 Adoption". The webinar will take place on Wednesday July 22nd, at 11:00 AM EST.
He will share industry leading, and real world experience, advice, and activities that other customers are leveraging to get the most out of Office 365 and drive more meaningful and powerful user adoption. Learn how Microsoft Office 365 value can be achieved by driving faster and more effective adoption.
To sign up, click here.
About Richard Harbridge:
Richard Harbridge is an author and internationally recognized expert in Office 365, SharePoint and Collaboration. He has defined, architected, developed and implemented hundreds of Office 365, SharePoint, and Azure solutions for customers around the world. As a sought-after speaker he often shares his insights, experiences, and advice around collaboration, knowledge management, social computing, ROI, governance, user adoption, and training at many industry events around the world. When not speaking at industry events Richard works as the CTO of 2toLead helping Microsoft, Microsoft partners, and Microsoft customers as an advisor around business and technology. He has been involved in the industry since the beginning of his career and is an excellent (and friendly) contact on anything relating to Microsoft, Office 365, Enterprise Content Management, and Social Networking.
About Intlock:
Intlock was founded in 2005. Ever since, it has been a leader in analytical solutions for SharePoint Intranets and Internet websites. As the company's flagship product, CardioLog Analytics set Intlock apart and put it ahead of the competition. CardioLog provides organizations with insights on how their SharePoint portal is being used, and helps optimize the portal. As organizations started to expand, so did the use of SharePoint to public facing websites. A demand grew for marketing tools designed for SharePoint, which lead to the release of the SharePoint Marketing Suite, which includes a wide range of marketing solutions for enterprise-level websites.
Today, Intlock products support all of the SharePoint versions, including the new 2013 edition. They offer a variety of insightful features and tools to help optimize portal and site productivity, as well as maximize the ROI.
Intlock, based in Boston, Massachusetts, has offices and partners throughout the world. Some of the customers utilizing these products are large worldwide enterprises such as Applied Materials, Fidelity Investments, and US Department of State. Intlock also offers a variety of packages for small business and NGO's.
For more information about this topic, please contact James Wright at +1-617-500-8461 (US) or email info(at)intlock(dot)com or james(dot)wright(at)intlock(dot)com.