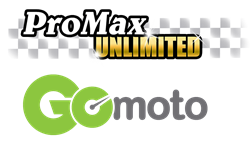 We're excited to be partnering with GoMoto... GoMoto is exactly what today's customers are looking for.
Davenport, Iowa (PRWEB) July 17, 2015
ProMax Unlimited, a longtime industry leader in auto dealership software, today announced a new integration with GoMoto, a retailer of cutting edge in-dealership technology for showrooms and service areas.
"As a company that has continually pioneered auto software for over 20 years, we recognize a great new platform when we see it," said ProMax CEO John Palmer, "and GoMoto is exactly what today's consumers are looking for."
GoMoto offers a suite of in-dealership technology that drives customer engagement and captures powerful analytics through the Digital HUB.
The HUB is a large format kiosk that bridges the gap between online shopping and the in-dealership experience, offering customers self-led, pressure-free shopping. A cloud–based, fully customizable tool, the HUB enables customers to enter their information, build vehicles, value trades, browse dealer incentives, and much more. This new integration passes the customer information entered at a GoMoto HUB directly into the dealership's ProMax CRM tool.
"We're excited to be partnering with GoMoto," said ProMax COO Shane Born. "Dealerships spend so much money on advertising, but too often neglect to invest in the customer's in-store experience beyond new sofas and coffee machines. The GoMoto HUB is a win-win, greatly improving customer engagement and satisfaction and giving dealers invaluable information and a streamlined process at the same time."
Todd L. Marcelle, GoMoto CEO and Founder commented: "We are excited to announce the partnership and launch an integrated customer experience with ProMax as they have continually been innovators in automotive. Our partnership will improve the in-store customer experience, streamline the car buying process and provide powerful data for dealer management to improve performance."
ABOUT PROMAX UNLIMITED
Dealer Marketing Services, Inc. was formed in 1994 by John Palmer. In August of 1995, ProMax was introduced as a Special Finance software solution. In 1998, the software was expanded to handle all types of desking including new and used vehicle leasing, CRM, finance menus, inventory management, reports, and credit application submissions to lenders. In 2002, ProMax was introduced as the industry's first Internet-based full front end solution and today is used by over 2,000 automotive dealerships. The ProMax Unlimited internet application integrates with dealership DMS systems and can be used effectively in large dealer group situations as well as single location dealerships. Dealer Marketing Services, Inc. also provides credit bureaus, website development and hosting, internet leads, and direct mail services to help dealerships increase traffic. Learn more about ProMax Unlimited and Dealer Marketing Services, Inc. at http://www.ProMaxUnlimited.com.
ABOUT GOMOTO
GoMoto has developed a truly unique technology platform designed to enhance customer experience in automotive showrooms and service waiting areas. Their suite of interactive solutions extends a dealer's digital footprint, and compliments customers' online shopping experience when they arrive at the dealership. In line with rapidly evolving and technologically-sophisticated car buyers of today, GoMoto's Digital HUB provides progressive dealers a turn-key medium to stay digitally ahead of the curve in-store–and think beyond furniture and coffee station upgrades. Their sleek, intelligent, and easy to use interfaces provide instant customer engagement, increase CEI/CSI, and ultimately drive measurable ROI from existing and prospective customers. Learn more at http://shopgomoto.com.