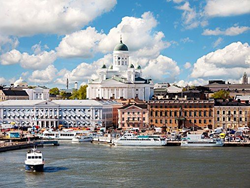 This is another exciting development in the rapid expansion of the Green Motion brand throughout Europe
Helsinki, Finland (PRWEB UK) 18 July 2015
Green Motion, the low CO2 car hire company, started the countdown to launching its brand within the country of Finland.
The master country car hire franchise has been purchased by a brother and sister entrepreneurs, Petri Vanhanen and Outi Takala.
Their first location will be open for business on Monday the 20th of July 2015 at Helsinki Vantaa International Airport. Green Motion Helsinki will operate from the Cumulus Airport Hotel which is only 2 minutes from the main airport terminals and serviced by a free of charge shuttle bus.
Richard Lowden the founder and Chairman of Green Motion said, "This is another exciting development in the rapid expansion of the Green Motion brand throughout Europe, Petri and Outi have already demonstrated their outstanding commitment to delivering an unsurpassed level of customer service and are 110% behind Green Motion environmental ethos, I have no doubt that this business will be another Green Motion success story."
The second location will be opening soon after at Tampere - Prikkala International Airport.
For further information on hiring a car with Green Motion in Finland, please visit http://www.greenmotion.com or call one of our central reservations representatives on +44 333 888 4000.