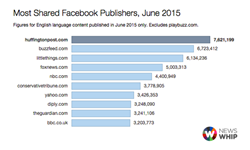 "Our June Facebook publishers index shows which of the big news and media firms are really succeeding on Facebook, at what scale" - Liam Corcoran, Head of Communications - NewsWhip
(PRWEB) July 16, 2015
NewsWhip has released its June index of the largest 25 publishers on Facebook, showing the Huffington Post, BuzzFeed and Little Things leading global competition to achieve ever greater reach on Facebook. Also featured in the top 10 are a number of the media 'old guard' from the UK and USA - such as the Washington Post.
Notably, this month, two lesser known viral publishers - Little Things and Diply - surge into the top 10, at position three and seven respectively, with interesting insights to be found in their content strategy.
With the race for US nominations underway, NewsWhip's research also reveals more about the role of Facebook in elections and politics. Political site, the Conservative Tribune, displayed impressive performance in June, with over 3.7 million shares of its content helping spread its message and ideology.
View the index and full report on the NewsWhip blog.
"Our June Facebook publishers index shows which of the big news and media firms are really succeeding on Facebook, at what scale. We always find some interesting trends and expect to see the influence of native posts and the US election grow in coming months " - Liam Corcoran, Head of Communications - NewsWhip.
About NewsWhip
Based in Dublin, Ireland and New York, NewsWhip is a social media analytics platform, powering a suite of trending analytics products used by journalists and editors, marketers, and communications and PR professionals.
NewsWhip's best known product, Spike, is a dashboard for analyzing real-time social velocity and trajectory of content. Spike predicts 89% of future viral news stories and is used by clients such as: BBC, BuzzFeed, Edelman, Fleishman Hillard, Huffington Post, Intel, Mastercard and Wells Fargo