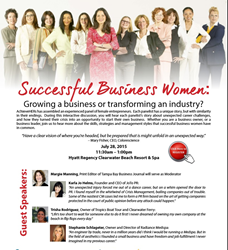 While our individual stories may be unique, we've all had the same goals—to strive and achieve new goals and reach new heights.
Clearwater, FL (PRWEB) July 16, 2015
AchieveHERs, the professional women's group created under the guidance of the Clearwater Regional Chamber of Commerce, comprises women from many different backgrounds and career paths. The group is hosting a panel July 28th at the Hyatt Regency Clearwater Beach Resort and Spa from 11:30 a.m. to 1:00 p.m., during which its members will discuss the changing workplace and the entrepreneurial spirit, as well as sharing their own personal stories.
Women-owned businesses are thriving nationwide—the San Antonio Business Journal states that since 1997, the number of women-owned businesses has grown by 74 percent to more than 9.4 million. (1) Among the 25 most populous metropolitan areas, the cities with the highest combined economic clout for women-owned firms over the 2002-2015 period are:
1. San Antonio, Texas
2. Portland, Oregon
3. Houston, Texas
4. Atlanta, Georgia
5. Riverside, California
6. Tampa/St. Petersburg (2).
The path to creating one's own business and being successful is never easy, but women starting and running businesses face unique challenges. An article on CNBC.com reported that some experts believe the biggest challenges are a lack of capital and poor access to global markets, as well as the need for more guidance and mentoring of female entrepreneurs, (3) prompting the AchieveHERs to enact change by providing guidance to ambitious women who are seeking to start their own businesses and to help take those already in business to the next level. Through sharing personal experiences and tips, they will arm these women with the tools needed to succeed.
JoTo PR CEO and AchieveHERs Chair Karla Jo Helms says, "While our individual stories may be unique, we've all had the same goals—to strive and achieve new goals and reach new heights. That's really what it's all about—empowering these women and giving them guidance in their careers—whether they're entrepreneurs or wanting to change an industry."
Helms, along with Stephanie Schlageter, owner and director of Radiance Medspa, and Trisha Rodriguez, owner of Tropics Boat Tour and Clearwater Ferry, will appear as guest speakers at the event. Margie Manning, Print Editor of the Tampa Bay Business Journal, will serve as moderator as each panelist shares her story about unexpected career challenges and how they turned their crises into opportunities to start their own businesses.
About AchieveHERs:
To meet the demand of businesswomen in the Clearwater region, AchieveHERs was established under the auspices of the Clearwater Regional Chamber of Commerce to be a regional leader providing camaraderie, support, networking opportunities and valuable new insights to women in business. AchieveHERs will provide impactful quarterly events that share insight, ideas, skills and success stories to ultimately help women overcome obstacles to their success. AchieveHERs is open to both established women in business and those aspiring to lead. For more information or to inquire about membership or attend events, visit their Facebook page at http://www.facebook.com/AchieveHers or their website at http://www.achievehers.org.
1. Thomas, Mike W. "Women-Owned Businesses Are Thriving Locally and Nationwide." http://www.bizjournals.com. San Antonio Business Journal, 20 May 2015. Web. 2 July 2015.
2. "Growth of Women-owned Businesses Lags." Miamiherald. N.p., n.d. Web. 10 July 2015.
3. Robaton, Anna. "Help Is Here for Female Entrepreneurs." CNBC. CNBC.Com, 14 May 2015. Web. 02 July 2015.