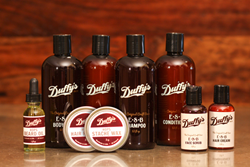 I was a fan of the product long before I bought the company," said Mr. Carrier.
Westford, MA (PRWEB) July 17, 2015
Duffy's Brew, creators of the best-selling dedicated line of beer-based hair care products in the country, is pleased to announce they have come under new ownership. The company has been acquired by Mr. Ashley R. Carrier, a serial entrepreneur who has already seen success in multiple ventures. His acquisition brings new experience and new product-development opportunities to Duffy's Brew.
Mr. Carrier has already been widely-noted as one of New England's fastest-rising entrepreneurs. In less than a decade, he turned BonsaiOutlet.com from a one-room home business into one of the largest Bonsai tree and supply dealers in America. His online marketing firm, 190West, handles major companies across the country, and looks to only grow larger in the years to come.
Now, Mr. Carrier's special blend of business management, marketing, and computer science expertise is being leveraged to enhance the special blend of hops, spices, and extracts that make Duffy's Brew the top choice in all-natural men's hair care.
"I was a fan of the product long before I bought the company," said Mr. Carrier. "The magic potion-like blend of beer, shampoo, and botanical extracts that Duffy's Brew whipped up on the West Coast made this East Coast head look, smell, and feel better than anything else I've ever used."
This was no simple buyout. Ashley R. Carrier acquired Duffy's Brew specifically to turn it into one of America's top names in men's hair product.
Towards that end, the acquisition has already allowed Duffy's Brew to add two new products to their line: Citra Hops Beard Oil, and Citra Hops Mustache Wax. Both of these are based on the newly-developed Citra Hops line from B. T. Loftus Ranches, which have quickly become popular among craft brewers for their heady, citrus-fruit aroma. When added to facial-care products, the result is an amazing-smelling combination that's chock full of vitamins and botanical extracts which encourage lush, healthy growth while allowing plenty of style.
All Duffy's Brew products are 100% Vegan-friendly, and contain no sulfates, parabens, or phthalates. They have never been tested on animals, and never will be. Duffy's Brew hair-care products are safe, all-natural, and full of everything growing hair needs.
And as to the future of Duffy's Brew? As Mr. Carrier put it: "It's my hope and vision that The Duffy's Brew Brand becomes a monster. It's an amazing product and the more people who get their hands on it, the more attractive and better-smelling the world will be. We're looking forward to expanding the product line and churning out a brand of high quality vice-based grooming products!"
Duffy's Brew hair-care products are available through the website, http://www.DuffysBrew.com, and from a quickly-growing roster of retailers throughout the country.