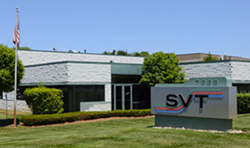 Brighton, MI (PRWEB) July 17, 2015
2015 marks the 60th anniversary of Sport View Technologies (SVT) being in business. For 60 years (or, 11 presidents, for those counting), SVT has adapted their business to technology advancements such as the first color television, the first remote control and the first active satellite.
As a talent-based organization, SVT's ability to thrive focuses on hiring the right people that are self-motivated to perform at their best potential. President Josh Shanahan elaborated, "Our Company focuses on not just employing the most qualified individual, but placing an employee in a position that best maximizes their potential. We recognize that a talent-based organization must harvest a culture of accountability, self-motivation and passion to succeed. Our leadership begins and ends with each employee, and our success is ultimately a product of the passion our talent brings to each project."
To promote their 60th anniversary, SVT is mailing swivelCards to nearly one thousand companies with whom they have interacted. A swivelCard is a "premium USB-enabled paper business card." Users can plug the business card into their computer or scan the QR code with their smart phone, after which the card drives the user to SVT's website. Users will check their swivelCard on the first and third Friday of each month until one lucky company is selected to win a free LED display for their headquarters.
About SVT
Founded as a family-owned American company in 1955, Sport View Television Corporation (SVT) pioneered the concept of video patrol for pari-mutuel race course facilities throughout North America. Since its inception, SVT has become an industry leader providing IT centric audio/video and communication systems to casinos, concert & event centers, office buildings, hospitality facilities, healthcare facilities, restaurants and retail outlets, lounges and nightclubs, educational facilities and financial corporations.
Visit Our Website at http://www.gosvt.com, find us on Facebook, and follow our Twitter page @sportviewtech