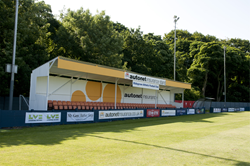 The work we have done at the club to bring it up to a professional standard is incredible, we are in this for the long haul and we want the club to be around for generations to come.
(PRWEB UK) 16 July 2015
Autonet-sponsored Kidsgrove Athletic Football Club have recently undergone a complete renovation of their ground; The Novus Stadium. The club who were on the brink of closure not so long ago have made a tremendous come back and are doing some wonderful things to ensure the local community benefits also.
The club are enthusiastic about developing their own talent from within the local area and have recently taken over a council owned facility in Packmoor, this new development is now the new Kidsgrove Athletic FC Academy. The club have provided new changing facilities and kitchen area, and there are 3 large playing fields at the Packmoor premises. Kidsgrove AFC already have 20 junior teams covering every age group from 7yrs through to their U18 team, and these youth teams will now be making full use of the new facilities.
On the back of this they have recreated their Under 18s Floodlit League team who will begin playing in August. The team was very successful three years ago, which was the last time that Chairman; Mick Fitzjohn was previously at the club.
The club are also extremely keen on providing educational opportunities for youngsters in the surrounding areas and have partnered with Port Vale football club to provide a Northern Premier League academy. This educational programme offers students aged 16-19 the chance to undertake BTEC studies in sports. Based at Vale Park, the youngsters receive 3 hours of education plus physical training every day. Kidsgrove AFC also refurbished the gym at Vale Park, and now this facility is fully utilised by their youth teams every evening.
Autonet have been instrumental in these new developments at Kidsgrove Athletic. Autonet's Managing Director; Ian Donaldson was born and raised in Kidsgrove and used to play for the club himself so is passionate about helping the club, putting back in to the community and encouraging the next generation to get involved in the club. Ian told us 'I was born and bred in Kidsgrove, I played for the team, my brothers played for the team and my nephew now plays for the team. So when the club was in trouble and Mick Fitzjohn re-joined this season as Chairman, he asked me to join him in helping to save them, and I didn't need to think twice about it. At Autonet we are passionate about putting back in to the local community and encouraging kids to support their local teams. Kidsgrove Athletic have been around since 1952 and it would be a real shame to let a club like that go. We want to encourage the youth of today to go to the matches, for whole families to attend as these kids are the next generation of players and loyal supporters.'
He went on to tell us 'The work we have done at the club to bring it up to a professional standard is incredible, we are in this for the long haul and we want the club to be around for generations to come. All monies made from tickets sales, room hire etc. goes straight back into the club; to ensure they maintain this new professional club standard. We want people to see how far the club has come and see all of the first class facilities they now have. We want kids and families to enjoy the facilities, enjoy going to matches and hopefully enjoy watching us win those matches! This is why we have decided to allow kids free entry, we know how expensive it can be for a whole family to attend football matches, and this way the whole family can enjoy the day for an affordable price '
Kidsgrove AFC are creating new youth teams all of the time for both boys and girls teams. Ian advised, 'If anyone has kids and they are looking for a team to join, give Kidsgrove a call. We really want to encourage the youth of today to get involved and help them progress their football skills. We offer some fantastic programmes for youngsters, these kids are the future and we need to nurture that.'
There are plenty of facilities available to hire at the newly renovated Novus Stadium, enabling the local community to take full advantage of these services. There is a large function room which has a spacious beer garden, resident DJ and a kids football pitch play area; ideal for parties and functions. The function room has a fully licenced bar and serves hot and cold foods.
The club also has a Sponsors Box available to hire, which provides outstanding vantage points to watch the teams in action. Guests will also have their own viewing balcony, and have access to the facilities an hour before the game. Food and drinks are also included within the hire.
For more details on hiring any of the facilities or joining any of the teams or academies, please contact the club on 01782 782412
Ticket prices for this season: £5 per ticket. Kids under 16 free entry
Upcoming fixtures:

Wednesday 22nd July – Kidsgrove Athletic vs Crewe Alexandra
Saturday 1st August – Kidsgrove Athletic vs Nantwich Town