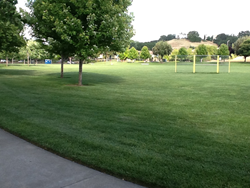 Hydretain and Moisture Manager can reduce the need for overall watering by 50%
Ocala, FL (PRWEB) July 21, 2015
Drought stricken Californians, faced with high water prices, water restrictions and countless drought related landscape problems, have recently turned to a moisture management solution to save water and their lawns. Hydretain®, manufactured by Ocala, FL based Ecologel Solutions, LLC, also available as Moisture Manager from John Deere Landscapes, is a natural blend of humectants and hygroscopic compounds derived from plant extracts that reduce the watering requirements of plants, trees, turf and agriculture by as much as 50% or more. "This patented technology manages soil moisture by converting humidity within the soil into plant useable water droplets", said Richard Irwin, President of Ecologel. "Hydretain attracts moisture like tiny water magnets and makes available to plant roots microscopic moisture which would otherwise be lost to evaporation."
#Hydretain has been tested by several major U. S. universities on everything from tomato production to full size trees. One university study concluded, "We have never seen another water management product that came close to doubling the time a plant could go without water".
Hydretain and Moisture Manager have been used in professional applications like golf courses, major sports fields, and parks for years, with spectacular results. Recently, the City of Rocklin, California added Hydretain to their 2015 drought mitigation plan. According to the City, "All usable turf will be treated in the spring and late summer with Hydretain." The report says, "The City is hoping to see a 30% water savings due to the use of this product." At Twin Oak Community Park in Rocklin, they were able to reduce watering by 50% and keep it significantly greener than untreated areas.
California homeowners are also seeing great results using Hydretain and Moisture Manager. "After only three weeks, my lawn was thicker and greener, burned areas are now filled in, and my flowers are blooming bigger. The results are incredible", said Marlene Baca from Pleasantville,CA. "My neighbors wondered if I was over-watering , but my water bill was 19 units compared to 38 two years ago. I am very happy with Moisture Manager". Ms. Baca used a professional landscape company that applied Moisture Manager to her lawn and gardens.
Now Hydretain is available for DIY home use. Offered in a quart bottle, Hydretain can be attached to a standard garden hose and sprayed directly on lawns, shrubs, trees and vegetables. Safe for people and pets, Hydretain need only be applied every three months for great results.
For a dealer, retailer or landscape professional near you, simply go to: http://www.hydretain.com/buy
Founded in 1991, Ecologel Solutions, LLC is an Ocala, Florida-based manufacturing company specializing in the production of environmentally responsible technologies for commercial and residential application in the areas of agriculture, lawn care and surface coatings. Ecologel's products include technologies aimed at drought mitigation, water conservation and management, dust control, plant nutrients, algae blockers and advanced hormone bio-stimulants for the turf care industry.