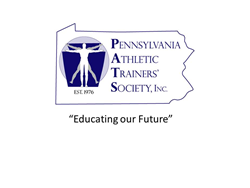 The Pennsylvania Athletic Trainers' Society (PATS) looks at this Pennsylvania Department of Education approved curriculum as a way to promote the Athletic Training profession.stated PATS President, John Moyer
Harrisburg, PA (PRWEB) July 17, 2015
May 2015 brought about a sweet victory for high school students wanting to explore the rehabilitation sciences as potential future careers. The Pennsylvania Departments of Education (PDE) Bureau of Career and Technical Education approved a new program titled Rehabilitation Aide -51.2604 to be taught in career and technical centers and comprehensive high schools with embedded technical programs. For decades, programs have existed for many other health care professions: dental, nursing, and emergency care. As entry level education requirements have progressed over the year, older vocational education programs have morphed into career and technical schools. These schools maintain their ability to provide a pathway directly into the workforce but have successfully added programs that expose students to careers that require four, six, or even eight years of post-secondary education; fields like engineering, computer networking, software development and health care. The students of today's career and technical programs are vastly more diversified than those of the past. The skills required for post-secondary entry level employment and entry into college are nearly one in the same and schools are working hard to prepare students for whichever path they choose.
For students who desire to explore careers in athletic training, physical therapy, occupational therapy, fitness, recreation therapy, nutrition, physical assistant or sports medicine physician, this opportunity finally exists in the Commonwealth. Prior to the existence of this formal program, a few forward thinking high schools and technical centers across PA hired Athletic Trainers (AT) and Physical Therapists (PT) to teach this content and create programs as they saw the need and desire of the students. Those individuals collaboratively worked with other interested schools and the Department of Education to create program standards that would provide a broad exposure to these careers through didactic and laboratory based courses. Those standards were adopted in May. Different schools will use different program titles with current ones ranging from Sports Medicine and Sports Therapy to Sports Technician and others.
As one of the first programs in the Commonwealth, the Sport Technology and Exercise Science (STES) program at York County School of Technology, according to Garry Himes, Athletic Trainer and Instructor "has 50 students currently enrolled and additional students on the waiting list. The 2016 STES class will have 90% of its students in a post-secondary education program and with the class of 2017 it is hoped that number will increase to 100% of its students in a post-secondary education program."
Jennifer Reed from State College Area High School reaction to her program was just as positive. "I am stunned by the growth in enrollment we have seen over six years as we have broadened our once small cluster of a few health care related courses into two thriving programs for general medical/nursing and sports therapy. We have four instructors, nine courses and over 600 course for 2015-2016. Our students love learning from real health care providers, trying basic hands on skills and exploring the many potential careers. It's rewarding to have some of the students for three to four years and then see them off to college with a strong idea of what they want to be and on a solid path to begin that journey."
The PDE sets the standard as to who can teach these courses, and Athletic Trainers are among the credentialed healthcare professionals deemed qualified to teach in the Rehabilitation Aide 51.2604 program. There are currently only a handful of schools offering this program as the first formal school year to do so will be 2015-2016. However it is anticipated that more schools will look to add this program because of the increased demand of health care professionals in the United States. Schools that currently offer this curriculum are State College HS, Lancaster CTC, Carlisle HS, York County School of Technology, Lebanon County CTC, Lenape, Beattie, Central Westmoreland and Middle Bucks.
For more information regarding this topic or to schedule an interview with PATS President John Moyer, LAT, ATC, please contact Linda Mazzoli MS, LAT, ATC, PATS Executive Director at patsexecutivedirector(at)gopats(dot)org.
The Pennsylvania Athletic Trainers' Society, Inc. is a progressive organization of licensed health care professionals who work under the direction of a licensed physician. Our society continues to increase public awareness and education regarding Athletic Trainers and the Athletic Training profession while serving as the premier source of information for public safety, injury and illness prevention, early intervention, patient care, and healthcare delivery for the physically active in the Commonwealth.
"The Keystone to a Healthy and Physically Active Life"