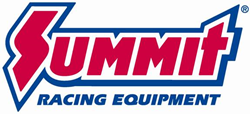 Tallmadge, OH (PRWEB) July 21, 2015
Chevrolet Performance offers an all-out performance motor inspired by the legendary L88 Corvette Stingray. The Chevrolet Performance ZZ427 Crate Engine delivers 480 horsepower and 444 lbs.-ft. of torque, and was featured on PowerNation TV's Engine Power.
The ZZ427 starts with a 7.0L (427 CID) iron block with a forged steel crankshaft and forged aluminum pistons. The block is fitted with high-flow, oval-port aluminum cylinder heads with 110cc combustion chambers. The ZZ427 uses an HEI distributor, plus an aluminum intake manifold topped with a Holley 770 CFM carburetor. The high-lift hydraulic roller cam delivers an excellent blend of drivability and performance. A 10.1:1 compression ratio means the motor will have no problems running on regular pump gas.
Chevrolet Performance designed this motor for pre-1976 street vehicles, but the monster mill is also right at home at the track. In fact, fans of PowerNation TV's Engine Power probably noticed a ZZ427 Crate Engine living between the fenders of the team's "Lime Dime S-10" race truck. The guys put the engine on the dyno in stock trim and confirmed Chevrolet Performance's torque and horsepower figures. With a few engine modifications, the ZZ427 powered the Lime Dime through several blistering fast quarter mile runs at the track.
See the Chevrolet Performance ZZ427 Crate Engine on Episode 13 of PowerNation TV's Engine Power.
Summit Racing Equipment
http://www.SummitRacing.com
1-800-230-3030