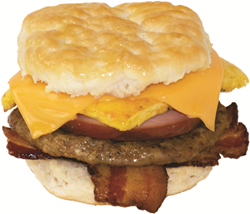 We are very satisfied with the Cooper's Breakfast Program in our store ... It is very quick and easy to prepare and the customers enjoy it
HOLTS SUMMIT, Mo. (PRWEB) July 17, 2015
Cooper's Express has hit the ground running with their newly improved breakfast menu. The new menus include 8 quick on-the-go breakfasts that are very fast and easy to prepare for retailers, while customers get to enjoy the true quality and taste of a freshly-made breakfast. Sure, consumers are looking for a fast breakfast on the run, but they do not want to sacrifice quality and freshness. Cooper's Express Breakfast meets all of these demands.
With these high breakfast demands, many retailers have been eager to implement the new Cooper's Express breakfast program. Tri County Coop, located in Chokio, MN, recently re-opened their store in March 2015 bringing in the full Cooper's Express breakfast, lunch and dinner program.
"We are very satisfied with the Cooper's Breakfast Program in our store," stated Karen Ebbet, General Manager of Tri County Coop. "It is very quick and easy to prepare and the customers enjoy it."
Ebbet noted that they sell about 30 breakfast meals per day and sometimes more. Their most popular item is the sausage, egg and cheese croissant, which makes up about half of their breakfast sales. "Customers prefer the croissant sandwiches when on the go, but we also have regulars that always come in and enjoy items like our biscuits and gravy," added Ebbet.
With the new menu, Cooper's Express now has a larger bake-off buttermilk biscuit along with a delicious new hickory-smoked ham slice. Menus also meet the forthcoming FDA-mandated, caloric menu-labeling requirements. Breakfast items are conveniently served right out of a sandwich slider/warmer or hotcase.
ABOUT PRO FOOD SYSTEMS, INC.
Pro Food Systems, Inc. (PFS) is the parent company of Champs Chicken® and Cooper's Express®, both registered trademarks. PFS distributes its chicken and other products out of the company's 65,000 sq. ft. corporate headquarters and national distribution center located in Holts Summit, Missouri. Now with over 700 branded locations in 36 states, the company has been ranked by INC. Magazine as one of the "Fastest Growing Privately-Held Companies in the USA" for the last 7 years.
###