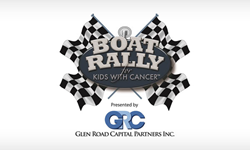 "When we come together and choose to fight children's cancer, we are making a difference in the lives of those most in need," said Genovese.
Bridgetown, Barbados (PRWEB) July 16, 2015
Led by returning Event Chairman Bobby Genovese, the 3rd annual Boat Rally for Kids with Cancer in support of The Hospital for Sick Children (SickKids) will hit the waters of Lake Joseph and Lake Rosseau on July 18, 2015 and feature a star studded group of celebrity navigators including actor Billy Baldwin, Olympic Gold Medal Bobsledder Heather Moyse, and more.
"As the event chair and co-founder of the Car and Boat Rally events, which began in 2008 and have since generated more than $15 million for The Hospital for Sick Children, it is vital that we all work together to provide much needed resources and support for paediatric cancer initiatives," said Genovese, Chairman of the Board, BG Capital Group and BG Signature. "With everyone's continued help and support this event alone has raised $1.5 million over the past two years, which is incredible!"
The Boat Rally is a unique and thrilling boating event that has put the FUN into FUNDRAISING, featuring family-fun, celebrities, exhilarating challenges and cottage adventure. The goal is to raise essential funds in the area of paediatric cancer research, treatment and care. "When we come together and choose to fight children's cancer, we are making a difference in the lives of those most in need," said Genovese.
The day begins with a brunch for qualified teams and celebrity teammates to discuss strategy and receive their first clue. The action builds as all of the participant's boats line up at the "Starting Line" ready to go.
Fuelled by an extraordinary schedule of pit stop locations set along a secret route across the beautiful waters and cottages of Muskoka, Boat Rally teams work together to decipher the clues and riddles that will take them on a journey from one location to the next. The final destination of the Boat Rally is the Gala BBQ Dinner at a private cottage; the Rally drivers, celebrities, sponsors and invited guests will revel in their memories from that day while enjoying an incredible dinner and award-winning entertainment with live auction prizes and the Scavenger Cup awards ceremony.
Teams must agree to fundraise a minimum of $7,500 per boat to participate in this exclusive event and can consist of family, friends, colleagues and cottage guests. Teams that raise $15,000 or more will have the opportunity to draft a celebrity from the roster of participating celebrities.
Celebrity navigators include: Billy Baldwin – Actor, Gossip Girl, Hawaii Five-0, The Squid and the Whale, Backdraft; Heather Moyse - 2x Olympic Gold Medalist, Bobsled; John Salley - NBA Alumni, TV Host; Leo Stakos – TV Host, Fish TV; Marty McSorley - NHL Alumni; Mike Krushelnyski - NHL Alumni; Rick Hoffman Actor, Suits; and more to be announced.
SickKids is known as one of the top children's hospitals in the world, renowned for its world-class patient care, research and education. Through community support, SickKids Foundation has become a charity that invests in health and scientific advances to improve the lives of children and their families in Canada and around the world.
Cancer is the most common cause of disease-related death among Canadian children, and the rate of occurrence continues to rise. This world-renowned place of research, healing and hope, sees approximately 360 new cancer patients each year. All Rally participants and celebrities share the SickKids vision: Healthier Children. A Better World.
"The Journey to a brighter future will not be possible without everyone's support, and it is our hope to not only increase awareness of the cause but to raise much needed funds to help children in their fight against cancer," said Joel Hock, c0-founder of the Car and Boat Rally for Kids with Cancer. "This is a testament to what can be done when philanthropic individuals unite with one shared vision: the health and well-being of our children."
For more information, visit http://www.rallyforkids.com
or http://www.boatrallyforkids.com
About BG Capital Group
With more than 25 years of experience in mergers and acquisition. BG Capital Group Limited and BG Capital Management Corporation are both based in Barbados with associate management offices in the Bahamas, Fort Lauderdale and Boca Raton, Florida, Los Angeles, Toronto and Vancouver. In 2013 Genovese developed and launched BG Signature, a portfolio of exclusive luxury retreats in the US, Canada, Europe, South America and Bahamas, including its flagship property, BG Polo & Equestrian Resort in Ocala, Florida, a 100-acre, year-round luxury equestrian and polo retreat featuring world-class stables and lodging for traveling horse enthusiasts.