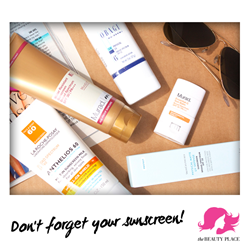 (PRWEB) July 18, 2015
As the summer sun continues to heat things up, UVA and UVB protection should be a priority. As the leading cause in skin cancer, sun damage, fine lines and wrinkles, UVA/UVB rays are extremely harmful.
According to Skin Cancer Foundation, the sun protection factor, or SPF, indicates the length of time it takes for UV rays to redden skin. For example, a sunscreen with an SPF of 30 will take 30 minutes longer to redden the skin. Sunscreens with SPF 15 protection screen 93% of the sun's UVB rays; SPF 30 screens 97%; SPF 50 screens 98%.
The Environmental Working Group, a non-profit dedicated to protecting human health and the environment, identified some of the most harmful ingredients found in sunscreens in department store brands and drug store brands.
By sorting through the level of toxicity of FDA-approved ingredients commonly found in sunscreens, the EWG's sunscreen guide noted Oxybenzone as one of the most toxic ingredients. With a skin penetration level of 1% to 9%, Oxybenzone interferes with the body's hormone system.
The most important part of the guide? EWG's approved brands that scored well in regards to chemical penetration from ingredients, skin allergies and other toxicity concerns.
Jan Marini, La Roche-Posay, Dr. Dennis Gross Skincare (formerly MD Skincare), NIA24 and Skinceuticals are all available on TheBeautyPlace.com at competitive prices.
Below are some of the best SPF picks:
La Roche Posay Anthelios 30 Cooling Water-Lotion Sunscreen
La Roche Posay Anthelios 50 Face Mineral Tinted Ultra-Light Sunscreen Fluid
SkinCeuticals Sheer Physical UV Defense SPF 50
SkinCeuticals Sport UV Defense SPF 50
NIA24 Sun Damage 100% Mineral Sunscreen SPF 30
NIA24 Sun Damage Prevention UVA/UVB Sunscreen SPF 30
About TheBeautyPlace.com:
TheBeautyPlace.com is a leading online company of top brands at affordable prices. From skin care, hair care and everything beauty, TheBeautyPlace.com strives to offer current and prospective clients excellent customer service and make available the most coveted beauty products in the industry.
Follow TheBeautyPlace.com:
On Pinterest: pinterest.com/thebeautyplace/
On Twitter: @TheBeautyPlace
On Instagram: @TheBeautyPlace
On Facebook: facebook.com/pages/TheBeautyPlacecom/125435188536
TheBeautyPlace.com Blog: blog.thebeautyplace.com