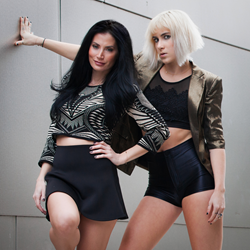 My vision is that the track is about partying, drinking, just having fun and being wild. (Janelle Ginestra)
Los Angeles, California (PRWEB) July 17, 2015
Rising dance/pop sensations STASH used a cliff-hanging Hollywood Hills home as backdrop, to "bust through those double doors" showcasing their summer party anthem "Red Cup! Pinky Up!" The video reflects all the trappings of a backyard bash, "poppin' bottles of bubbly," while featuring a scene shot by a drone showing the cast raising their red cups together (with their "Pinky's Up", of course). Among other scenes, a significant stage with backdrop lights shows off the STASH ladies dancing the night away. The video was conceived and produced by Jose Omar Hernandez. Notably, the "Red Cup!" track received a nomination in the Dance category from the Hollywood Music in Media Awards (HMMA) this year as well. The track also recently reached #24 on the Top POP chart for BEATPORT, an online music store specializing in electronic music and culture.
Consumers in Miami, Florida can see this "original" STASH "Red Cup!" video on channels such as Music Mix USA (ABC, NBC, Direct TV and Online), on Sound Changer in Denver, CO, on the Chubb Show in North Carolina and Germany, Video Hills in various NY markets, California Music Channel in the Bay Area of California, Add to Style City Music in Florida, and online assets such as Blastro.com, via Rive Video Promotion.
Janelle Ginestra created her semi-risqué concept for the "Red Cup!" based on what she visualized while initially listening to the lyrics. Janelle explains, "When I watched the original video, I realized that while MY vision was similar to the original, I would still run with it, because that is what the track is about, partying, drinking, just having fun and being wild. I simply filmed it inside my condo, since I feel the track is very fun and funky, and that's my vibe." Ms. Ginestra has danced in Nicki Minaj's: Anaconda video, Honey 2, Alvin and the Chipmunks: The Squeakauel, Learn to Hip Hop, and Soldier, among many others.
Ms. Ginestra's video is the third of a series of videos that STASH – L.A. based DJ/rapper/songwriter Steph Prost and classically trained singer Amanda Maze – is creating via their partnership with DanceON Network, an entertainment focused digital media company connecting music and pop culture through the universal language of dance. Empowering musicians and artists in the digital era, DanceOn was co-founded by CEO Amanda Taylor, Madonna, Guy Oseary, Machinima and Chairman Allen DeBevoise.
The network's more than three billion views, 20 million subscribers and 42 million fans across platforms showcase the influence of dance around music's viral moments.
The first of three videos rolled out last month was a clip for STASH's breakout hit "Tear Me Down" performed by top Korean Dance Group Waveya led by sister choreographers Ari and MiU. Waveya is considered YouTube's #1 Korean dance team and winner of the #1 UGC Channel from YouTube Korea in 2012, 2013 and 2014.
The second video featured Brinn Nicole's interpretation of "Strip Me Bare," the 2014 Best EDM/Electronic Dance Music song at the HMMA. Brinn's video features friends pepping her up through dance after having been emotionally hurt or "Stripped Bare". Brinn launched her dance career at 20, appearing in music videos by Pitbull, Enrique Iglesias, Baby Bash, and danced on tour for Snoop Dogg at the age of 21.
DJ MIKE D's remix of RED CUP! Pinky Up is a progressive house track somewhat reminiscent of the 90's. It begins with vibey piano melody, and then opens up into heavy, grinding bass beat! The original track's hook is simplified by reducing the instrumentals and feature soaring chorus vocals. DJ Mike D remarks, "Red Cup reflects the fun, pop style of STASH! It was a fun yet challenging track to work with!"
For More information: Contact Deb Bolner. Deb(at)dancestash(dot)com 210-824-7799
###