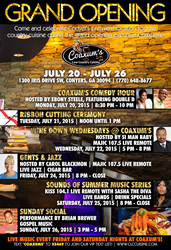 "Music is a fundamental part of the low country culture and we wanted to make sure it was an essential part of our weekly experience for patrons."
Conyers, GA (PRWEB) July 18, 2015
Grand opening activities for Conyers' latest Southern inspired restaurant will begin July 20 until July 26. Coaxum's Low Country Cuisine, located at 1300 Iris Drive in Conyers, officially opened its doors in May of this year. The new culinary establishment offers patrons cuisine consisting of a unique blend of American, European and Caribbean influences along with the wonderful West African food styling, seasonings, ingredients and preparations. Live music performances, ribbon cutting and a comedy hour will commemorate the grand opening celebration of Coaxum's Low Country Cuisine.
Harry Coaxum developed this restaurant concept after a successful 35-year corporate career with McDonald's Corporation. "[Coaxum's] allows the community to peek into the low country culture through a unique culinary experience," said Coaxum, who was born in South Carolina and created recipes reminiscent of the Gullah community and West African culture. "Coaxum's Low Country Cuisine offers a fine dining experience for an affordable price. You can find everything from crab cakes to succotash and even homemade bread pudding and our signature crab boil on our menu."
The grand opening festivities include a host of activities to commemorate and celebrate Coaxum's Low Country Cuisine's opening in Conyers. Monday kicks off the week's activities with a comedy show featuring Double D, from BET's Comic View. On Tuesday, friends, family and community leaders will be on hand for a ribbon cutting ceremony hosted by the Conyers-Rockdale Chamber of Commerce. On Wednesday, Coaxum's hosts its "Wine Down Wednesday" signature cocktail event followed by Friday and Saturday evening events that offer live music and drink specials. Coaxum's "Sunday Social" event provides patrons the perfect atmosphere to fellowship with friends and family while taking in the sounds of local gospel artists and musicians.
"Music is a fundamental part of the low country culture and we wanted to make sure it was an essential part of our weekly experience for patrons," said Coaxum. "Each Friday and Saturday night, we have live music ensembles perform a variety of r&b, jazz and neo soul arrangements that infuse the restaurant's atmosphere with wonderful sounds from some incredible local artists."
Leaders consider businesses like Coaxum's Low Country Cuisine a shot in the arm for the local Conyers business community. "The Conyers-Rockdale Chamber of Commerce is excited to welcome Coaxum's Low Country Cuisine to the area and look forward to this great establishment joining our ever-growing food service community. Not only does Coaxum's bring amazing food options to the area, but also a number of service and professional jobs right to our community," said Chamber of Commerce President, Fred Boscarino. "I encourage our members, residents and visitors to come and experience the tastes and sounds of Coaxum's Low Country Cuisine."
Coaxum said he has plans to build out a private room for parties, corporate gatherings and events within the existing 6,500 square foot facility. "I want to invite the entire community to come out and experience a piece of the low country right here in Conyers," said Coaxum. "We want Coaxum's Low Country Cuisine to be a place for the entire family to enjoy."
For more information on upcoming grand opening activities, visit http://www.clccuisine.com or call (770) 648-8677.
GRAND OPENING ACTIVITIES
Coaxum's Comedy Hour
Monday, July 20, 2015
8:30 PM - 10 PM
Ribbon Cutting Ceremony (Hosted by Conyers-Rockdale Chamber of Commerce)
Tuesday, July 21, 2015
Noon – 1PM
Wine Down Wednesdays @ Coaxum's
Live Bands * Drink Specials * $3 Wine Specials * Majic 107.5/97.5 Live Remote
Wednesday, July 22, 2015
5 PM - 7 PM
Gents & Jazz
Live Bands * Cigar Bar * Drink Specials * Majic 107.5/97.5 Live Remote
Friday, July 24, 2015
8 PM - Close
Sounds of Summer Music Series
Live Bands * Drink Specials * KISS 104.1 Live Remote
Saturday, July 25
8 PM - Close
Sunday Social
Sunday, July 26
Live Gospel Music Performances
3 PM – 5 PM
MEDIA NOTE: Media outlets are welcome to attend and cover all grand opening event opportunities. Please RSVP to Jason Warner at jlwarner22(at)gmail(dot)com.
###
Media Contact:
Jason Warner
678-849-0243
jlwarner22(at)gmail(dot)com