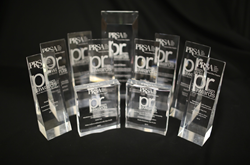 (PRWEB) July 17, 2015
Health care public relations projects using brand journalism and storytelling tactics resulted in MediaSource receiving Best of Show and ten additional awards for outstanding PR work from the Central Ohio Chapter of PRSA in the 2015 PRism and Excellence Awards.
Only one Best of Show award was given this year, and MediaSource was selected as winner. The Best of Show award was given to MediaSource for a brand journalism campaign with The Ohio State University Wexner Medical Center that told the story of a medical and scientific first, where neurosurgeons from The Ohio State University Wexner Medical Center, working with researchers from Battelle, implanted a device into a paralyzed young man's brain that allowed him to miraculously move his hand for the first time since a life-changing diving accident. The campaign reached a total audience of 822 million, with an advertising value of more than $2.4 million, which is 200 times the client's investment. National and international media coverage was found on CBS This Morning, Fox News Network, Sky News, ITV and STV in the United Kingdom. Online hits included Yahoo! News, CNET.com, Aol, The Daily Mail, CBSNews.com and Washington Post Online. Top website Buzzfeed named the story one of 2014's "31 Moments That Restored Our Faith in Humanity."
This campaign is an example of the ongoing PR campaign work that MediaSource completes for their health care clients, which includes a full, customized Multimedia Newsroom to house each individual client's stories and campaigns in a format that is preferred by top tier journalists.
MediaSource took home additional PRism awards and recognitions including work for bylined articles, earned media placements, creative tactics, external video, marketing communications, media relations, multimedia newsrooms and video new releases.
Not only is MediaSource known as a national leader in health care brand journalism for their clients, but also as an innovator in PR education. The team was awarded for their creativity through their educational "Brand Journalizer Song", which was shown at major public relations conferences including the Mayo Ragan Social Media Summit, PRSA Health Academy Conference, Content Marketing World and more. Recently, the MediaSource team launched a new song, "Media Misdemeanors & Content Crimes", which premiered at the 2015 PRSA Health Academy Conference in Cleveland, Ohio.
MediaSource, located in Columbus, Ohio, is a national leader in brand journalism. The company's brand journalism team uses journalistic tactics to create client content which is amplified by using both earned and company-owned coverage. The team of brand journalists also utilizes their Multimedia Newsroom, which MediaSource developed as a way to deliver high-quality multimedia content directly to the news media, allowing maximum buzz for clients. All major television networks and other top-tier news media utilize MediaSource's Multimedia Newsroom to access and download content.
MediaSource President, Lisa Arledge Powell, is a leading expert on brand journalism, speaking at national and regional industry conferences including PRSA Health Academy, The Mayo Clinic Health Care Social Media Summit and Content Marketing World. As a member of the PRSA Health Academy Executive Committee, Lisa contributes insight to help push the health care communications industry forward. She also contributes to national PR publications and teaches college students the MediaSource brand journalism techniques.
The firm works with the nation's top health care providers including The Ohio State University Wexner Medical Center, Nationwide Children's Hospital, UCLA Health, Arnold Palmer Hospital for Children, American Society of Plastic Surgeons, National Jewish Health and Orlando Health.
MediaSource has also been named the Best Health Care PR & Marketing Agency by Ragan Communications for the past two years.