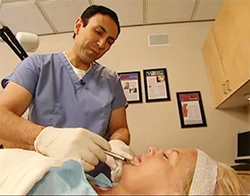 Los Angeles, CA (PRWEB) July 17, 2015
On July 6, 2015, Harper's Bazaar Magazine in an article titled "Everything You Need to Know About Restylane Lyft," reported that the Food & Drug Administration (FDA) had given Galderma, the manufacturer of Restylane Lyft, approval to market the product for the correction of lost volume in the cheeks and nasolabial folds. It is the first and only product with this dual FDA approval. Though Restylane Lyft, previously called Perlane-L, has been used off-label for this purpose since 2007, this approval may provide greater confidence to consumers. (see: goo.gl/NhpJdm)
"We have been offering Perlane in our clinic for many years," says Dr. Simon Ourian, Medical Director of Epione Beverly Hills. "Loss of facial volume is one of the key elements of the appearance of aging and restoring lost facial volume is something we do on a daily basis."
According to the Harper's Bazaar Magazine report, Restylane Lyft is a hyaluronic acid dermal filler. This provides the advantage of reversibility if necessary. Typically a topical anesthetic is applied to the skin of the areas to be treated to eliminate potential discomfort. On average, the results are reported to last 10-18 months. Treatments with Restylane Lyft can be combined with injections of Botox or other dermal fillers such as Radiesse or Juvéderm.
"It is important to choose a physician that has experience with dermal fillers," says Dr. Ourian. "Not only are there nerves and blood vessels that need to be avoided but a deft touch and an artistic eye are required to achieve a natural-looking result."
Dr. Ourian has been a pioneer in laser technology and non-invasive aesthetic procedures including UltraShape, VelaShape, Restylane, Juvéderm, Radiesse, Sculptra, and CoolSculpting. These treatments are used for the correction or reversal of a variety of conditions such as acne, acne scars, skin discoloration, wrinkles, unwanted fat, stretch marks, varicose veins, cellulite, and others. More information about dermal fillers can be found on Epione's website.