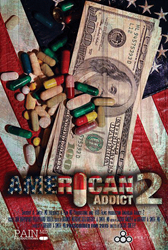 American Addict 2 is a landmark film exposing the issues, providing vital information that will educate the public and help to turn the tide away from deadly drugs."
Rhinebeck, NY (PRWEB) July 16, 2015
Lou Paradise, president and chief of research, and Aurora Paradise, chief operations officer of Topical BioMedics, Inc., (Topricin) are attending the World Premiere of the documentary American Addict 2: The Big Lie, on Thursday, July 16, 2015, in Los Angeles, California, at Sundance Cinemas. The company is a sponsor of the evening, and attendance at the event is by the invitation of Executive Producer Gregory A. Smith, M.D.
From the makers of the hit documentary American Addict, American Addict 2 picks up where the first film left off and breaks more new ground. Director Sasha Knezev conducts candid interviews with leading celebrities, politicians, and physicians, including Gregory A. Smith, M.D., who specializes in the integrative treatment of addiction. Following the impact of the first film, American Addict 2 digs deeper into the world of corruption, politics and pharmaceutical greed and includes shocking undercover footage. Matthew Perry, Jonathan Davis, Ron Paul and Dennis Kucinich contribute to this eye opening examination of America's deadly dependency with prescription medication. Link to the official movie trailer: https://www.youtube.com/watch?v=E7RCtuGKGDo
"We are honored to support this important film," says Mr. Paradise, who is a pain management expert. "The tragedy of the addiction epidemic has reached epic proportions, ruining lives, destroying families, eroding communities, and undermining the fabric of American society.
"For over 20 years, the Topricin project has assisted hundreds of thousands of people suffering with pain and those addicted to painkillers to achieve fully restored and robust healthy living. Formulated from a combination of natural biomedicines that stimulate and support the body's own healing chemistries, Topricin is changing the way we treat pain.
Unfortunately, millions of people continue to suffer in pain and with addiction. American Addict 2 is a landmark film exposing the issues, providing vital information that will educate the public and help to turn the tide away from deadly drugs."
In 2012, Dr. Smith founded Pain MD Productions, Inc., to facilitate the distribution of its first film, American Addict. "Every film we produce will deliver the truth," says Dr. Smith. "We want to actually do something about the huge issues and problems we cover and expose. A percentage of the net revenue of each film will be donated to a non-profit corporation that pays the medical bills for patients who cannot afford treatment. We want to help fund research for the underfunded alternative methods of treating medical problems such as addiction and cancer."
For more information about American Addict 2, visit http://www.americanaddictthemovie.com/
Links: Topical BioMedics: http://www.topicalbiomedics.com/; Topricin: http://www.Topricin.com; Pain MD Productions: http://www.painmdproductions.com/.
ABOUT TOPICAL BIOMEDICS
21 years in business and a Certified B Corporation, Topical BioMedics is a research and development leader in topical patented natural biomedicines for pain relief. The company's flagship product, Topricin® Pain Relief and Healing Cream, was introduced in 1994 and is now a leading natural therapeutic brand. A combination natural biomedicine formula, Topricin has been awarded a patent for the treatment of pain associated with fibromyalgia and neuropathy. Topricin products are mandatory treatment protocol at world renowned medical centers.
The Topricin family of natural healing products also includes Topricin Foot Therapy Cream, specially formulated to treat painful foot and ankle issues and conditions, and Topricin for Children, which received the Parent Tested Parent Approved Seal of Approval (with 5% of sales are donated to pediatric cancer foundations). The company recently launched the new MyPainAway™ Powered by Topricin line of products.
Made in the U.S.A., all Topricin products are federally-regulated over-the-counter medicines with no known side effects, no parabens, petroleum, or other harsh chemicals, no grease, and no odor.
For over 21 years, the company has assisted hundreds of thousands of people suffering with pain and those addicted to painkillers to get off of these, and achieve fully restored and robust healthy living. Unfortunately, millions of people continue to suffer in pain, and more people are finding the benefits of Topricin so to reduce or eliminate the hazardous side effects of OTC chemical pain pills and Rx opioid painkillers—while reversing the epidemic that has turned the lives of American families upside down as it rips at the very fabric of our country.
Because of the company's experience in addressing these challenges, it has launched its "Get Relief, Give Relief" initiative: for every Topricin product purchased directly from the company, it will donate a tube of Topricin to a free pain clinic or charitable organization. To participate in "Get Relief, Give Relief," order from http://www.topricin.com or call 1-800-LES-PAIN (537-7246).
Topical BioMedics launched a free monthly pain management webinar in February 2015. Featuring Lou Paradise, president, chief of research, and pain management expert, the webinars are streamed live the second Tuesday of each month from 12pm to 1pm then archived on the company's WordPress blog for on-demand access 24/7. https://topricin.wordpress.com/
Topical BioMedics also offers TopTrack, a new app for on-the-go pain tracking and monitoring. TopTrack is available free of charge for iPad via the App Store, and will roll out on additional devices in the coming months. http://bit.ly/1rIQD89. This app allows the person in pain to record their monthly activity/pain levels following applications of Torpricin, enabling them to track their progress and experiences. For example: better sleep, reducing pain pills, along with healthy lifestyle tips so at the end of the month all the data can be downloaded and shared with your health care provider.
Topricin is available in independent pharmacies, natural food and co-op stores nationwide, including Whole Foods, Sprouts, Pharmaca, The Vitamin Shoppe, Fred Meyer, Wegmans, CVS (Foot Care Section), Walgreens (Diabetic Section), and other fine retailers, as well as directly from the company.
For more information visit http://www.topricin.com; http://www.topicalbiomedics.com.