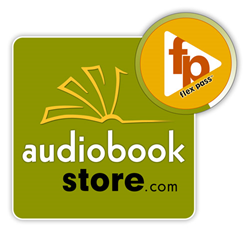 Over 45,000 audiobook downloads will be available through FlexPass™ -- a new program that avoids credits but provides instant and on-going savings.
St. Peters, Missouri (PRWEB) August 05, 2015
AudiobookStore.com launched a new ecommerce website on March 1, 2015 with a primary focus on providing a new and unique membership concept that unlocks a discount audiobooks pricing structure. "The FlexPass™ program was designed to provide the flexibility and freedom that digital audiobook listeners have been wanting for a long time", stated CEO, Darren Eilers. "For so long consumers have been forced into a credit model where they pay a high monthly fee and end up losing their credits when they forget to use them.", added Eilers. FlexPass™ provides an elegant solution to the often burdensome credit system that forces customers to pay monthly fees for a credit that is exchanged for a download. The premise of FlexPass™ is that for the very affordable price of $3.95 per month you become a member which unlocks the lowest possible pricing available on the site. Their website boasts that FlexPass™ members will see $12.95 (or less) price points on over 90% of the audiobooks in their catalog, which is a significant savings over paying retail.
The FlexPass™program removes some of the flaws of existing credit programs. It allows the audiobook listener to be a more active consumer, because they can purchase as many audiobooks as they want without worrying about redeeming credits. It allows AudiobookStore.com to price digital downloads according to specific deals with the publishers. "This allows the best possible audiobook pricing to maximize customer savings", stated Jay Tapp, COO. Provided under the FlexPass™ and Ala Carte (non-member) purchasing options will be over 45,000 DRM-free audiobook downloads that encompass all of the latest and classic best-sellers and new releases from all of the top authors and publishers. "This is what consumers have been seeking - a simple alternative that works hand in glove with the competitive market leaders. It helps expand the market of audiobook consumers," commented Eilers.
The AudiobookStore team announced the development of new and exciting ways to actively engage consumers via the website and social media channels. "By deploying new concepts and making audiobooks compelling, more people will want to engage and that leads to more purchasing. It's basic but very much needed in our space," added Tapp.
Additionally, the site offers free apps in both iOS and Android versions for portable offline personal library and listening convenience.