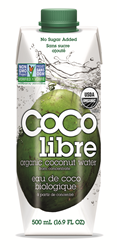 Mountain View, CA (PRWEB) July 16, 2015
Coco Libre announced today that their flagship Organic Coconut Water will be on hand backstage at Nickelodeon's second annual Kids' Choice Sports 2015 show. Hosted by Seattle Seahawks Super Bowl Quarterback Russell Wilson, the show will feature a tribute to Yankee great Derek Jeter and performances by Nicki Minaj and Ariana Grande. Promising Nickelodeon's trademark epic slimings and fan-demonium, Kids' Choice Sports 2015 will air on Thursday, July 16 at 8 p.m. (ET/PT) from Pauley Pavilion in Los Angeles.
Coco Libre, the top-selling organic coconut water, will give everyone involved a natural way to stay hydrated and ready to perform. Everyone from staff and production crew to star athletes, celebrities and musical acts will be able to reach for a Coco Libre. "We respect how seriously athletes take what they put into their bodies," said John Campbell, Coco Libre Director of Marketing. "And we also respect how important it is to let loose. We're proud to be involved in a show that allows top professionals to show their inner kid. Because if you're not having fun, then what's the point?"
Kids' Choice Sports are the only awards show for kids where NFL champions go head-to-head with tennis legends, and NBA record holders compete with NASCAR racers celebrating kids' favorite athletes and sports moments of the year. Fan voting for favorites in categories like "Sickest Moves" and "Don't Try This at Home" opened June 8, giving kids from around the world a chance to show their support for favorite athletes, teams and sports moments and decide who will take home a cherished, one-of-a-kind Nickelodeon orange mohawked blimp trophy.
Coco Libre is known for delicious flavor with no added sugar and is USDA organic, OU kosher, gluten free and Non-GMO Project Verified. Most recently, Coco Libre was named a 2015 finalist in Natural Child World magazine's Eco-Excellence Awards in the Wellness and Nutrition categories.
ABOUT NICKELODEON'S KIDS' CHOICE SPORTS 2015
Nickelodeon's Kids' Choice Sports 2015 is produced by Done + Dusted in association with Nickelodeon Productions. Award nominees are selected by The Kids Sports Council for twelve different categories. The winners are then selected by highest amount of votes in the category they are nominated for. Nickelodeon, now in its 36th year, is the number-one entertainment brand for kids. It has built a diverse, global business by putting kids first in everything it does. The company includes television programming and production in the United States and around the world, plus consumer products, online, recreation, books and feature films.
ABOUT COCO LIBRE
Coco Libre's flagship Organic Coconut Water is the nutritional foundation for a growing family of purposeful beverages. Coco Libre was a finalist for Best New Product Line Extension at the World Beverage Innovation Awards 2014. Coco Libre beverages can be found in grocery, specialty and natural foods retailers in the U.S. and Canada. To learn more visit http://www.cocolibreorganic.com, Facebook.com/CocoLibre, twitter.com/CocoLibre and Instagram @CocoLibre. Liberate your thirst.™
Media contact: Celina Cooper – celina(at)maverickbrands(dot)com, (650) 739-0555