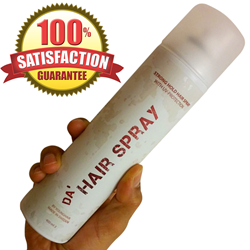 Probably the best hairspray in the world
London,UK (PRWEB) July 19, 2015
Co-founder Angelika Young of YoungHair says, "We have chosen to release our Da'Dude brand formulation specifically designed for men exclusively online to Amazon.co.uk, because we desire direct user feedback. Da'Hair Spray is our first product that is probably the best men's hairspray in the world (I am obviously bias) but we look forward to discerning UK consumers to confirm the strong hold, pleasant scent and the ease that it can be washed out!"
To celebrate the launch of Da'Hair Spray, YoungHair are offering interested buyers, 25% discount coupon for a limited time. Plus, the release of a Youtube video entitled "How to use hairspray".
Da'Hair Spray features strong hold and volume while keeping hair in place all day. In addition, it allows men to style their hair and be confident that they will have the same look all day using this fast drying finishing spray that leaves no flaky residue. When the day is over, men will not have to worry about Da'Hair Spray being a mess to get rid of since it is easy to wash out in the shower. This product also offers UV protection with a zesty scent and a 90 days satisfaction warranty.
One of many recent five star reviews states, "I love this hairspray, just a quick spray on my hair and the style holds firm all day. You get a lot for your money and this strong hold hair spray has the added advantage of having UV protection. I've not experienced any flakiness or itching. My hair looks stylish and not greasy which other gels can give that appearance. The delivery was very quick and the product very well packaged. There is no doubt I will be ordering this quality hairspray again and recommending it to others."
People can learn more about Da'Hair Spray by clicking on best hairspray for men.
.