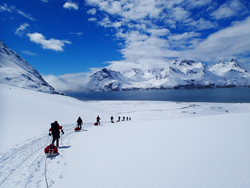 The epic saga of Shackleton and the crew of the Endurance is the greatest adventure story of all time.
Wilmette, IL (PRWEB) July 17, 2015
100 years ago famed polar explorer Ernest Shackleton set out on the final stage of his struggle to reach civilization—and thus save the crew of his ship, Endurance, which had been crushed and lost near Antarctica. Twenty-six miles of rugged, unexplored, unmapped mountains and crevasse-ridden glaciers separated him from outside help. No one had dared traverse South Georgia Island before but with twenty five lives hinging on his success or failure, Shackleton did not hesitate.
In November 2015 PolarExplorers will guide an expedition of amateur adventurers to retrace Shackleton's traverse of South Georgia Island. "It took Shackleton 36 hours to cross the island without maps or any equipment," says expedition director Annie Aggens, "But we will take a more leisurely four days."
South Georgia Island is a place of unrivaled beauty and unexpected natural diversity. While the coastline is dominated by wildlife including 32 species of birds and tens of thousands of penguins, the interior is populated by jagged mountainous terrain and over 100 glaciers. It is commonly referred to as "Antarctica in a Nutshell" because it has all the wonders of the world's wildest continent concentrated on one magical island.
Intrepid travelers who want to experience South Georgia Island without doing the 4-day ski crossing can opt to explore the coasts with zodiac tours and optional guided hikes while spending each night on board our comfortable ship. Delicious food and daily presentations by the expedition naturalists & scientists help to make this a world class adventure.
"Adventurers, historians, wildlife enthusiasts and photographers make up the bulk of the people joining our team," says Aggens, "but there is something for everyone on this phenomenal expedition."
Full itinerary details are available at http://polarexplorers.com/expeditions/subpolar/shackleton-crossing or call 1-800-RECREATE (+1-847-256-4409) for details.
ABOUT POLAR EXPLORERS - http://polarexplorers.com
PolarExplorers is the premier polar guiding company successfully guiding many amateur and experienced adventurers to the North and South Poles, across the Greenland ice cap, and to other remote places in the Arctic and Antarctic . For information on current and upcoming expeditions, please visit polarexplorers.com or contact Annie Aggens at +1 847 256 4409 or by email at annie(at)polarexplorers(dot)com. Join us on Twitter, on Facebook , and see training tips and videos of many of our trips on our PolarExplorers YouTube channel.