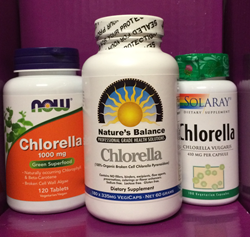 Glyphosate has been shown to deplete the body's essential minerals and nutrients as well as cause an increased histamine and inflammatory response in the body; for someone with autoimmune conditions adding Chlorella can support the body
Orland Park, Illinois (PRWEB) July 17, 2015
Diana Sourek, MS, CNC, Certified Gluten Practitioner and manager of New Vitality Health Foods, Inc. "Within the human body are multiple organ systems that play a role in assisting the body eliminate environmental toxins. Even if these systems are functioning at full speed, the body would have a hard time keeping up with the numerous toxins it may need to filter on a daily basis."
Ms. Sourek added, "The body works hard to maintain a healthy balance as long as it possibly can until, at some point, it becomes overwhelmed. The stressor may be the taxing demands of a stressful job, another dose of glyphosate in a slice of sandwich bread, or overexposure to electromagnetic frequencies coming from the cell phone, all at the same time. By the time someone begins to notice symptoms from exposure to any one of these types of toxins, the body has already experienced an extensive underlying imbalance due to toxicity. Chlorella, a freshwater alga, can help your body speed toxins out of the body. Not only does it help support the body with many important nutrients, chlorella takes away what's dragging you down."
Chlorella Magnetic Force Against Toxins
Decades of research show chlorella speeds your body's ability to remove heavy metals, pesticides, toxins and more. The chlorophyll in each chlorella cell combined with its special cell wall fibers help the body get rid of these otherwise persistent toxins. Chlorella provides the body with a tremendous amount of nourishment and helps the body rid itself of toxins that can destroy health. (1)
Heavy metal toxicity and chemical toxicity has become one of the most pressing health hazards of our day. One chemical in particular, glyphosate, can trigger many significant hazardous reactions in the body. Glyphosate is one of the most commonly used herbicides or weed killers used in the United States. (2) It is primarily used on genetically modified crops like corn, soy, canola, sorghum, alfalfa, and cotton.
However, glyphosate is also sprayed on wheat right before harvest. The wheat/gluten actually binds to the glyphosate and that it disrupts the process that usually happens in the digestive system that would make it a nontoxic form. As a result, gluten is something the body becomes allergic too as undigested food proteins are allowed to enter the blood stream, causing numerous inflammatory problems. The symptoms of gluten intolerance resemble many other gut problems recently associated with foods, especially when people eat crops genetically engineered to resist weed killers. (3)
"Because glyphosate has been shown deplete the body from key essential minerals and nutrients as well as cause an increased histamine and inflammatory response in the body, for someone with existing autoimmune conditions, adding Chlorella can provide the body with additional support it needs," concluded Ms. Sourek.
Chlorella Can Rebuild and Protect
Chlorella benefits the entire body by supporting healthy hormonal function, good cardiovascular health, lowers blood pressure and cholesterol, and aids in the detoxification of our bodies. It can be difficult to get the recommended 5-7 servings of vegetables a day. Organic low-temperature extracted Chlorella supplements allow you to receive all of the benefits in a simple tablet form. In order to gain the greatest benefits from Chlorella it is a supplement that should be taken daily.
Ms. Sourek shared that Chlorella is rich in the following many key nutrients including protein, Vitamin A, Iron, Magnesium, Zinc, and Vitamins B1, B2, B3 and B6.
Quality Is Important
It is important to purchase Chlorella from a well-known and reputable source to ensure the highest quality standards and purity. New Vitality Health Foods, Inc. offers Chlorella from four national companies. Individuals that are allergic to iodine and those that have been prescribed Coumadin or Warfarin should consult with their physician prior to using Chlorella. New Vitality Health Foods, Inc. suggests consulting your physician before starting any nutritional regime.
About New Vitality Health Foods, Inc.:
Established in 1988, New Vitality Health Foods, Inc. provides Chicagolands' largest selection of allergy-free foods that have met their high standards for taste, quality, and nutrition. New allergy-free foods are introduced weekly. They also carry frozen foods, vitamins, herbs, homeopathic, aromatherapy, body care, pet care, household items and much more. New Vitality features only the highest quality, effective nutritional supplements to support their customers' total health. New Vitality Health Foods, Inc. is located at Orland Park Crossing, 14225 S. 95th Avenue Suite 410, Orland Park IL, 60462. (708) 403-0120 http://www.newvitalityhealthfoods.com
Sources:
(1) https://www.sunchlorellausa.com/blog/15-chlorella-health-benefits-can-help-you-make-big-healthy-changes
(2) https://www.glutenfreesociety.org/gluten-free-society-blog/gluten-free-warrior-podcast-episode-3-dr-seneff-on-the-dangers-of
roundup/?inf_contact_key=8f19278fe5a2945caff08eff87b9bd6e920b2c9a776ff79abd690c6e61d883a8
(3) https://www.for.gov.bc.ca/hfp/publications/00015/6-Dost-Glyphosate.pdf