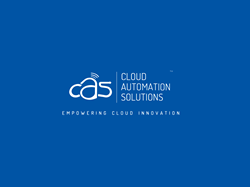 CAS' cost-effective automation services that cut the costs, both up-front and ongoing, for our customers in terms of implementing, maintaining, migrating and end-to-end management of cloud and data center automation
Austin, Texas (PRWEB) July 18, 2015
Cloud Automation Solutions (CAS), a provider of cloud automation solutions, today announced its one-year milestone of serving clients around the world.
Over the past year, the entire CAS team has worked closely with customers' IT staff, and other stakeholders, through the assessment, planning and implementation phases, to develop comprehensive cloud strategies that make the most sense based on each client's IT infrastructure and business goals.
"It's been a tremendous year of growth for our company and our data center and cloud automation services," said Dale Hardy, CTO of Cloud Automation Solutions. "We're proud of how our team has responded to this rapid growth to provide superior services to our global data center and cloud customers."
Cloud Automation Solutions' reliable, leading-edge automations give customers leading solutions for private, hybrid and public clouds, in both remote and on-site environments.
"We're proud of the one-on-one relationships we've built with our cloud automation clients over the past year," said Hardy. "Our customers understand the value of our cost-effective, automated enterprise solutions, and that keeps them driving our business – and theirs."
With 74% of businesses currently using SaaS, 56% using IaaS, and 41% using PaaS technologies, IT decision makers need a comprehensive enterprise cloud strategy. Cloud Automation Solutions' approach satisfies the need for fast, effective implementations that reduce operating costs while giving clients a competitive advantage in their markets.
About Cloud Automation Solutions, Inc.
Cloud Automation Solutions (CAS) is a leading-edge cloud automated service provider located in the hub of the cloud community in Austin, Texas. CAS exists in today's fastest growing multi-billion dollar industry by offering highly innovative, enhanced, cost-saving, and customized cloud & data center automation services and end-to-end managed solutions. These solutions include cloud platform selection to migration, implementation to customization, and cloud environment enhancement to maintenance as well as a range of fully-packaged, reliable and secure services for private, virtual private and hybrid cloud installations both on-premise and remote. For more information, call +1 512.879.9303 or email info(at)cloudautomationsolutions(dot)com.
Media Contact
Ben Croke
Cloud Automation Solutions
ben(at)cloudautomationsolutions(dot)com
512.843.8914