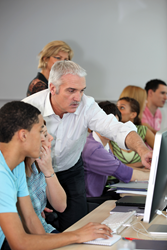 Entourage is truly a gem in the yearbook industry, and I consider myself fortunate to have the opportunity to work with them! If you choose Entourage....you will not be disappointed!!!
(PRWEB) July 20, 2015
Technology has streamlined many aspects of individuals' work and personal lives. However, until recently, technological improvements specialized for parent teacher organizations and yearbook advisors have been limited in availability. Thanks to awesome innovations by Entourage, yearbook organizers now have a plethora of tools which can help them to reach more community members and use time more efficiently. One of these exciting new features is called Link, an online hub which allows community members to take a more involved role in the yearbook process.
According to Nicole Lipnitz of Entourage Yearbooks, many email and file sharing programs have limits as to the amount of data which can be sent in a single transaction. In the past, it has been necessary for community members to send multiple emails or lend their precious original copies so that photos can be added to the books. Now these individuals have the opportunity to upload photos directly from their Facebook, Instagram, smartphone or computer to online folders which can be accessed through the online yearbook designer. Even better, community members will soon be able to add photos directly to folders which are specialized for a specific school organization or class. Yearbook staff would then be able to skip the sorting and jump into the design process. New face recognition and tagging software, like that which is offered by Facebook, could then be utilized to more easily place photos of specific students. Organization has always been a priority for Entourage, as many users can attest.
"With the organization tools that Entourage provides, we were able to complete our book without any difficulties," said a former student from Venice High School. "Keeping up with the digital times and using state of the art software, Entourage will make putting your book together easier than any other year book company. The support team is there to assist with any technical questions, so you don't need to spend hours on any issue you may have, leaving your time available to be creative."
There are even features which allow for the sharing of announcements which help communities to stay connected even after students graduate! This provides a unique opportunity for the community to raise funds or assist in school functions because alumni would be able to provide their professional expertise or help to locate sponsors for their alma mater! Through Link, these community members are able to purchase yearbooks, or design advertisements for yearbook staff to place in the books. Advisors then have a digital record which allows them to track progress of each activity or payment.
Schools are excited about the opportunities which are made possible by Entourage's technology, and one look at the company's Google Plus page makes this fact clear. Lori Gibson posted that "Entourage is truly a gem in the yearbook industry, and I consider myself fortunate to have the opportunity to work with them! If you choose Entourage....you will not be disappointed!"
Consumers can read more testimonials online at http://www.entourageyearbooks.com/OurYearbookCustomers.asp
Schools can request a free yearbook sample and a yearbook price proposal http://www.entourageyearbooks.com/RequestInformation.asp
About Entourage Yearbooks
Entourage works with high schools, middle schools, elementary schools, colleges/universities, military groups and churches around the country to fulfill their yearbook publishing needs. They proudly offer the fastest turnaround time in the industry, and affordable prices. In most cases, Entourage Yearbooks are priced 20% below other companies.