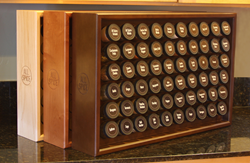 You don't realize just how many spices you actually have until you start looking for a solution--60 or more is quite common.
Madison, Wisconsin (PRWEB) July 22, 2015
HausLogic LLC, launches the innovative AllSpice line of spice racks—the first spice racks designed with the serious home cook in mind. Finely constructed from solid maple wood in a variety of finishes and sizes, AllSpice racks have quickly become the new standard in spice storage.
Accommodating up to 60 spices, the efficient AllSpice design eliminates the need for piles of spice bags and containers that take up valuable kitchen storage space. The AllSpice rack system takes up a mere 4.5" at the very back of the countertop. The compact design leaves countertops free of obstructions and ready for chopping, mixing, and whatever else needs to be done.
Easy spice access allows home chefs to create unique flavor combinations by quickly scanning a pallet of herbs and spices. Quick spice retrieval means fewer delays while preparing food, especially at those critical moments when timing is everything!
AllSpice is designed around the standard 4-oz spice jars preferred by the finest purveyors of spices. Most home cooks will find the 120 pre-printed labels more than adequate for their collection of spices. If that is not enough, then AllSpice offers custom labels for even the most obscure spices.
The AllSpice spice rack launched in April of 2015 with the 60-jar model. Like most food enthusiasts, Product Designer Max Osterhaus had amassed a disorganized, overcrowded, messy cabinet of spices in jars, bags, bottles, and boxes. "You don't realize just how many spices you actually have until you start looking for a solution--60 or more is quite common," says Osterhaus. The spice racks on the market were bulky, low capacity, low quality, and impractical. So, Osterhaus went to work designing a spice rack that would solve all of these problems.
While designing the AllSpice rack, Osterhaus realized that there were no companies who were seriously focused on spice storage. He set out to create the only brand dedicated to offering quality spice storage that would meet the demands of every discerning cook and fit the unique configuration of every kitchen. This fall, the AllSpice line will grow to include 12 and 30-jar models, each constructed in solid maple and available in natural finish, cherry-stain, walnut-stain, or the recently released contemporary white.
AllSpice spice racks are available from Amazon.com, http://www.allspicespicerack.com, and through selected spice shops and kitchenware retailers. Retail: 60-jar - $220, 30-jar - $160, 12-jar - $80.
HausLogic LLC was founded in Madison, Wisconsin in 2014. HausLogic LLC specializes in creative and practical household innovations. http://www.allspicespicerack.com.