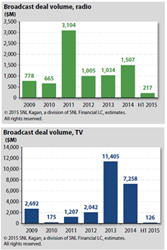 Compared to the first half of 2014, the $343.8 million of first half 2015 amounts to just 6% of the prior-year period's $5.3 billion volume.
Monterey, Calif (PRWEB) July 20, 2015
Announced today, broadcast station M&A volume reached $223.3 million in the second quarter of 2015. Radio reached $125.1 million, while TV registered deals worth slightly less at $98.2 million. The deal total in the second quarter was almost twice the amount registered in the first quarter ($120.5 million). However, broadcast station deal volume year to date is still far off from the billion-dollar-plus quarters in 2013 and 2014, which were boosted by M&A among the major affiliate TV station group owners.
Compared to the first half of 2014, the $343.8 million of first half 2015 amounts to just 6% of the prior-year period's $5.3 billion volume. Major TV station group deals in the first half of 2014 included the Granite Broadcasting Corp. 11-station sale for $300 million in February; the LIN Media LLC and Media General $2.5 billion merger announcement in March; the Graham Holdings Co. divestiture of Miami NBC affiliate WPLG to Berkshire Hathaway Inc. for $364 million, also in March; Gannett Co. Inc.'s purchase of London Broadcasting's six stations in Texas for $215 million in May; and the 21st Century Fox TV station swap with Cox Media Group in June valued at $859.3 million.
In the first half of 2015, the deal market settled into a more modest pace, with average monthly volumes of $60 million and the occasional $100-million-plus month, with Alpha Media and Gray TV the most active radio and TV buyers. There is still appetite for additional station consolidation, although radio deal financing is deterred by high debt leverage multiples and ad revenue softness, while the FCC incentive auction scheduled for 2016 has TV station owners in major markets holding out for potentially higher spectrum values.
Cash flow multiples are still unchanged, hovering between 6.0x-7.0x (radio) and 8.0x (TV), a level that has become standard for the last three years. Transactions in top markets could boost the multiples, but the focus of the deal market has almost completely shifted to small markets and non-rated areas. The three top radio deals of the quarter and two of the three top TV deals all took place in markets ranked 100-plus.
In the largest radio deal of Q2 2015, Alpha Media LLC bested its two top deals of Q1 with the $38.25 million acquisition of Morris Communications and its 36 radio stations in five rated and three non-rated markets. It was Alpha Media's largest acquisition since the merger of Alpha Broadcasting LLC and L&L Broadcasting LLC in April 2014. SNL Kagan estimates a 7.0x forward seller's multiple for the rated FM stations and a 6.0x multiple for the rated AM stations, resulting in an overall multiple of 6.7x.
Alpha Media's two top acquisitions in Q1 remain at ranks two and three on the annual list. With a total of $83.8 million spent on six deals in 2015 (three of them in Q2), Alpha Media remains the only radio company to have registered any deals of more than $10 million.
Gray Television Inc., the top TV buyer of Q1, struck twice in Q2. In April, Gray TV paid $10.25 million/8.0x forward seller's cash flow for WAGM in Maine's Presque Isle market (rank 205). In May, Gray surpassed its top Q1 deal, paying $33.6 million to Investment Company of America for KOSA, the CBS affiliate (with MyNetworkTV on a secondary channel) in the Odessa-Midland, Texas, market (rank 146). It was the highest price paid for a single small-market TV station since June 2014.
The only large TV deal in a top-100 market happened in May in Hawaii, when KITV Inc. paid $21.0 million to Hearst Stations Inc. for ABC affiliate KITV in Honolulu (rank 69) and its two full-power translators.
So far, the TV market has registered five transactions above the $10 million mark, four of them in Q2. With 15 of the top 20 TV transactions of the first half of 2015 taking place in Q2, the TV deal volume of the second quarter was almost 4x as high as that of Q1.
About SNL Kagan
SNL Kagan, a division of SNL Financial LC, is a comprehensive resource for financial intelligence in the media and communications sector, including the broadcasting, cable, entertainment, motion picture, telecom, wireless, satellite, publishing, new-media industries and media technologies. The SNL Kagan suite of products integrates breaking news, comprehensive data and expert analysis into an electronic database available online and updated around the clock. For more information, visit http://www.snlkagan.com.