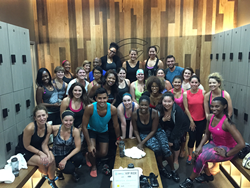 Zengo Cycle was the perfect venue to show off our latest leisure crop tops before D.C.'s leading lifestyle and trend bloggers - Julie Crotty, CEO and Founder of Cleavitz.
GAITHERSBURG, Md. (PRWEB) July 23, 2015
Cleavitz®, the only patented crop top for women guaranteed to never ride or slide, was on hand at the recent launch party for Zengo Cycle's fourth location in the Mosaic District in Merrifield, Virginia. Hosted by CapFabb, the Washington DC-area fashion and food blog collaborative, Cleavitz displayed its latest line of workout and leisure tops to the District's top trend bloggers.
"Zengo Cycle was the perfect venue to show off our latest leisure crop tops before D.C.'s leading lifestyle and trend bloggers," said Julie Crotty, founder and CEO of Cleavitz. "Our customers rave about our cotton Cleavitz crop tops for workouts so we were glad to be part of the opening of the newest Zengo Cycle Mosaic location. And our tops also are available in fashionable silky shimmer, elegant lace, and plush velvet designs so we also were happy to share them with CapFabb fashion bloggers."
Cleavitz representatives were on-hand at the Zengo Cycle opening to take part in a motivating full-body, cycle-centric spin class and raffle off a Cleavitz Fitness Basket valued at more than $200. The basket included fitness items such as a yoga mat, weights, socks, water bottles, iPhone arm band and free Cleavitzes. More than 40 CapFABB members were in attendance for the event. CapFABB was founded in 2011 to bring together Washington-area fashion, food, and style bloggers to collaborate and help build market awareness. There are currently more than 500 members of CapFABB.
Cleavitz offers women a complete line of half tops or "crop tops" designed for the ultimate comfort as well as fashion. Cleavitz's unique, patented half cami design falls just below the bra line and is cut longer in the front and shorter in the back so it never rides up and always stays comfortable and in place. Cleavitz is available in cotton so it's great for a workout, or serves as the ultimate layering fashion accessory in lace, velvet, or silky shimmer and a wide array of colors. Cleavitz half camis are ideal for leisure wear, active wear, or as part of a more sophisticated ensemble.
About Cleavitz
Cleavitz® is the only patented crop-top for women guaranteed never to ride or slide. Developed by founder and CEO Julie Crotty, the concept behind Cleavitz was to develop a simple, comfortable way for women to dress fashionably and accessorize professional attire at the same time. Women's camisoles, tank tops, and half-camis were either too revealing for the office, bunched up, or were too hot for summer wear. Cleavitz was developed to deliver comfort and style using a patented design and fabrics that were guaranteed to be fashionable and practical.
Cleavitz tops are available in different designs and fabrics, including cotton, silky shimmer, lace, and velvet. For more information about Cleavitz or to see the entire line of fashion-forward layering solution tops, visit http://www.cleavitz.com.