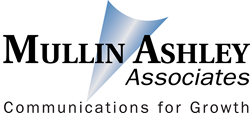 Chestertown, Maryland (PRWEB) July 17, 2015
Mullin/Ashley Associates, a Mid-Atlantic branding, communications, PR and marketing research firm, has been recognized by two national healthcare marketing awards programs for the design and development of informational materials outlining Atlantic General Hospital's "2020 Vision" 5-year strategic plan.
Atlantic General Hospital (AGH), which serves residents of the Ocean City region in Maryland and Southern Delaware, positions itself as a healthcare provider that partners with patients in preventive health, not just in their hospitalization or outpatient medical treatment.
The strategic plan overview produced by Mullin/Ashley condenses the hospital's 40-page "2020 Vision" document into a breast-pocket summary, using colorful infographics. The piece is being used by AGH in meetings with community leaders and for communicating with the general public.
Mullin/Ashley's design of the 2020 Vision piece has won awards in two 2015 national ad competitions.
In the 32nd Annual Healthcare Advertising Awards competition, an Award of Merit was won in the "miscellaneous collateral" category. The Healthcare Advertising Awards is an annual competition conducted by Healthcare Marketing Report magazine, the premier national periodical covering marketing, communications and strategic business development in the healthcare industry. This competition is the oldest and largest of its type in the healthcare industry.
Nearly 3,500 entries were submitted to the 2015 competition. A national panel of judges reviewed all entries based on creativity, quality, message effectiveness, consumer appeal, graphic design and overall audience impact.
The "2020 Vision" strategic plan collateral was also named a winner in the Hospital Marketing National Awards competition. This is a newer competition – in its second year – and was conducted in conjunction with the Hospital Marketing National Conference held in Atlanta in June 2015. Mullin/Ashley was one of five finalists in the "out-of-home/PR program – hospital under 200 beds" category, and ultimately secured a Bronze Award in the competition.
Commenting on the awards won by Mullin/Ashley on behalf of AGH, Phillip Nones, president and director of client services, stated, "We're always excited to participate in competitions that include so many entries developed for the best-known healthcare institutions across the country. This is the ninth year we've participated in the Healthcare Advertising Awards competition, and we're pleased to have submitted at least one award-winning entry each time."
Nones continued, "It was our first year to participate in the Hospital National Marketing Awards, and we're delighted that those judges recognized the merits of our 'Vision 2020' marketing materials for Atlantic General as well."
Established in 1978, Mullin/Ashley Associates is a branding, communications, PR and marketing research firm serving healthcare, industrial, commercial and service organizations. Headquartered in Chestertown, Md., the company's clients are located in six states in the Mid-Atlantic, South and Midwest regions.
More information on Mullin/Ashley and its creative portfolio can be found at http://www.mullinashley.com. You may also visit the company's profile pages on Facebook and LinkedIn.