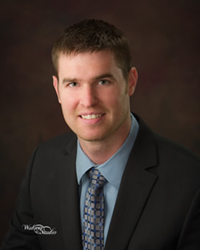 Sun Prairie, WI (PRWEB) July 16, 2015
Dr. Daniel Stevens is pleased to become a new dentist in Sun Prairie, WI, who now practices at Dr. Christopher Stevens' practice. He offers laser dentistry services as well as many other treatment options designed to improve oral health, comfort and functionality. He is also qualified to perform root canals on individuals who need the procedure.
Dr. Daniel Stevens has recently joined Dr. Chris Stevens' practice as a general dentist. He offers a variety of dental treatments, including root canal procedures and laser dentistry with the DEKA laser. In 2015, Dr. Stevens' graduated Summa Cum Laude from Milwaukee, Wisconsin's Marquette University School of Dentistry. He also studied at the Northwestern University Feinberg School of Medicine in Illinois before deciding his passion lies in dentistry. He also wanted to ensure that the career he chose allowed him to deliver reliable dental services to a small, local community so that he could provide highly individualized care. Dr. Stevens decided that he would have greater flexibility, one-on-one time with patients and more time to spend with his family if he pursued a career in dentistry.
Dr. Stevens currently lives in Watertown, WI and is proud to offer laser procedures to patients with dental discomfort and decay because it is a minimally-invasive and minimally-painful treatment option. Dental lasers are also highly exact, which makes them ideal for dental work that requires precision and great care. In many cases, utilizing lasers to treat different oral problems can help dental professionals avoid accidentally removing portions of healthy tissue along with portions of diseased tissue. Patients who receive laser dental procedures also report that their recovery time is rapid and involves very little bleeding or discomfort.
Dr. Stevens invites all patients who are in need of dental work to schedule an appointment with his practice and to trust him as their new dentist in Sun Prairie, WI. Individuals who are concerned about the invasiveness of certain dental procedures are encouraged to find out of minimally-invasive laser dentistry is a viable treatment option for their dental needs.
About the Practice
Dr. Chris Stevens Family & Cosmetic Dentistry is a general practice that provides personalized dental care for patients in Sun Prairie, WI. Dr. Chris Stevens graduated from Marquette School of Dentistry and has been practicing in Sun Prairie, WI since 1982. He utilizes the latest dental technology and techniques in his services in order to deliver a superior standard of patient care. Dr. Stevens is among the first group of dentists in the country to undergo the training required to perform the Chao Pinhole Surgical Technique™, a minimally invasive alternative to traditional gum grafting surgery. Dr. Daniel Stevens is a graduate of the Marquette University School of Dentistry in Milwaukee, WI. He offers a variety of treatment options including minimally invasive laser therapy, and root canal procedures. To learn more about the dental services available at Dr. Chris Stevens Family & Cosmetic Dentistry, please visit http://www.drchrisstevens.com or call (608) 837-4880.