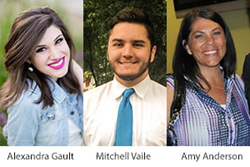 Lynchburg, VA (PRWEB) July 16, 2015
Karen Kingsbury, No. 1 New York Times bestselling author and visiting professor at Liberty University, recently announced the first winners of the Karen Kingsbury Liberty University Scholarship contest. Two residential students — incoming freshmen Mitchell Vaile of Midlothian, Va., and Alexandra Gault of Hemet, Calif. — were awarded $20,000. Amy Anderson of El Dorado Hills, Calif., a current online student, was awarded $5,000.
Each applicant submitted an essay explaining why they want to attend Liberty, how they plan to use their education to impact the world for Christ, and how Liberty will help them achieve their goals.
"I'm a storyteller, and in this case students started by writing out their stories," Kingsbury said. "The winners really do have extraordinary events that have shaped them and led them to this point. I am so excited to see what God will do in the lives of these students."
Vaile, who plans on earning a B.S. in Communication, wrote his essay about a deadly car accident he was involved in in April 2014 that took the life of his best friend.
"I find that the biggest blessing has been the ability to share the story of my car accident and the loss of my best friend with so many others in an effort to spread the Gospel," he said. "To have been selected as one of the first winners is honestly just another amazing way I can see God blessing me; no assortment of words can accurately describe the emotions I had getting the call saying that I had won."
Gault, who plans on earning a B.S. in Marketing, said that she did not plan on attending Liberty until a friend mentioned it to her while she was visiting another school in the spring.
"I immediately fell in love with Liberty, and this scholarship gave me the opportunity to be able to share how the Lord has always been by my side through difficult life experiences," she said. "It is still hard to fathom the idea that I was chosen as a recipient, and my family and I are grateful to God, Karen Kingsbury, and Liberty."
Kingsbury, who has three sons and a nephew attending Liberty, said giving more students the chance to attend Liberty "is like giving them the greatest possible opportunity."
"When I called the winners, they were ecstatic, shouting, screaming, and celebrating," she said. "On my end, I was wiping tears. This gift will change their lives and set them on a tremendous journey of becoming a Champion for Christ."
Liberty announced a partnership with Kingsbury in January, welcoming her as a visiting professor for residential and online programs. Kingsbury contributes to the university's English and creative writing programs and provides writing curriculum exclusively to Liberty. She teaches on story development, marketing, and publishing, through both written pieces and video instruction.
About Liberty University
Liberty University, founded in 1971, is the largest private, nonprofit university in the nation, the largest university in Virginia, and the largest Christian university in the world. Located near the Blue Ridge Mountains on more than 7,000 acres in Lynchburg, Va., Liberty offers more than 450 unique programs of study from the associate to the doctoral level. More than 200 programs are offered online. Liberty's mission is to train Champions for Christ with the values, knowledge, and skills essential for impacting tomorrow's world.