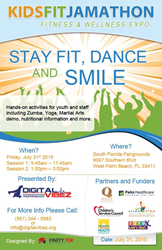 West Palm Beach, FL (PRWEB) July 17, 2015
The 4th annual 2015 KidsFit Jam-a-thon takes place on July 31st at the South Florida Fair Grounds. This community event will be featuring presentations by local health and wellness advocates, and will incorporate dance fitness and hands on activities in an effort to educate youth about health and exercise. All are welcome to join in the fun while learning about and partaking in Yoga, Zumba, and a martial arts demonstration. Complementary gift bags will also be given to those in attendance.
This fitness and wellness event is being hosted by Digital Vibez, a non-profit organization focused on fighting childhood obesity and the illnesses associated with it that can plague children into adulthood. Digital Vibez instructs youth in underserved areas about health education and dance fitness, and how integrating the two can help individuals achieve a healthy lifestyle.
Digital Vibez's progressive effort in helping South Florida's youth has encouraged the partnership and support of La Granja Restaurants, whose founders have always worked diligently to provide a healthful and nutritious alternative to fast food for today's busy American families, since its inception in 1995.
La Granja Restaurants has built close ties to the South Florida community, and remains focused on giving back. They are proud to be one of the sponsors of this event. Other sponsors are Quantum Foundation, Palm Healthcare Foundation, Prime Time PBC, 5210 Let's Go, Florida Health PBC, Kidding Around Yoga, Whole Foods, Finity Tek Designs, Children's Services Council, Caridad Center, and El Bodegon Supermarkets.
La Granja Restaurants is an authentic, family style Peruvian food restaurant chain that has become a popular family favorite for more than a decade. La Granja Restaurants is widely known for its delectable, made from scratch, whole food Peruvian specialties that are offered fresh daily in over 40 locations throughout Florida. La Granja has also made a name for itself in South Florida for its generous support and strong ties to the community.
La Granja Restaurants has proven to be just as dedicated to supporting the South Florida community as it is committed to perfecting the culinary art of Peruvian food. La Granja Restaurants has partnered with several non-profit organizations like Digital Vibez throughout the years, sponsoring grass roots youth organizations like ASPIRA, Project Leadership, as well as others. La Granja also honors and supports American veterans throughout the year, and just recently announced its generous contribution of scholarships to Florida residents of Hispanic and Latino descent to attend Palm Beach Community College.
In May 2015, La Granja Restaurants was also honored at the 2nd annual Almeurzos Y Cenas Awards 2015, as the recipient of three awards acknowledging its achievement in restaurant hospitality throughout the state of Florida, including special recognition for serving Floridians with the highest quality Peruvian food.
Authentic Peruvian Food in Palm Beach County: Convenient and affordable for busy parents, nutritious and delicious for busy kids.
La Granja Restaurants knows that eating out can be expensive, and it's no secret that it can also be fattening and not nutritious enough for growing children. La Granja's careful preparation of Peruvian food includes only the highest quality ingredients that are not processed, and are rich in fresh, whole foods, herbs, and spices. La Granja's menu offers amazing variety – a sure way of making sure everyone will be satisfied, and all of its dishes are made fresh to order. La Granja proudly serves authentic, slow cooked, savory Peruvian dishes using age-old recipes for families to enjoy.
For more information about La Granja Restaurants, or to find a La Granja restaurant nearest you, visit: http://www.lagranjarestaurants.com/locations.php.
For more information about the 4th Annual, 2015 KidsFit Jam-a-thon event, go to http://www.digitalvibez.org/4th-annual-kids-fitness-jams/
or go to https://www.facebook.com/DigitalVibezInc/photos/a.732183493567090.1073741830.451638491621593/805583686227070/?type=1 See you there!!