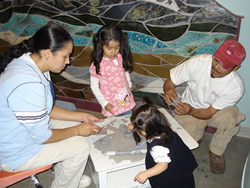 Portland, Oregon (PRWEB) July 20, 2015
Pathfinders of Oregon is excited to announce that its Center for Family Success has opened a new location in east Multnomah County. The new location, at 1445 SE 122nd Avenue in Portland, is in addition to the Center's Rockwood site where it has been serving families since 2009.
The Center for Family Success started in St. Johns in 2007, and moved to Rockwood to better reach its clients. The Center serves families that have a parent involved in the criminal justice system, offering a range of services including, the evidence-based Parenting Inside Out program, family advocacy, home visiting and family engagement activities. The Center focuses on helping criminal justice involved parents build parenting skills, navigate the justice and child welfare systems, reestablish contact with their children after prison and when appropriate, reunify with their families.
The new office is located in a Community Investment Trust building. Community Investment Trusts, sponsored by Mercy Corps, allow residents in the neighborhood to invest in commercial buildings. Other agencies located nearby include the Department of Human Services where parents can access employment and job training services, ESL classes and Head Start. The Center partners with the Multnomah County Parole and Probation Office, which is also located nearby. In the words of Sharon Darcy, Pathfinders' Executive Director, "One of the best ways to help children is to help their parents acquire the skills and resources they need to succeed. Having critical services in one area makes that process easier for parents and for children."
The new location will be hosting an open house from 5:00-7:00 PM on Wednesday, July 22. The public is invited to drop by, tour the office and enjoy light refreshments.
About Pathfinders of Oregon
Pathfinders of Oregon is a 501(c) 3 organization whose mission is to break the cycle of criminality. Pathfinders has taught programs within the Oregon Department of Corrections for more than 20 years. In the community it offers programs to families impacted by the criminal justice system through its Center for Family Success in Rockwood and east Multnomah County.